Testing capacity of Tanda shall be raised from 150 to 300 daily from tomorrow: DC Kangra  
Says only I death of Covid in Kangra so far whereas 958 persons died due to other reasons in district since April 24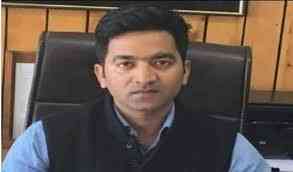 Rakesh Prajapati, DC, Kangra. (File Photo)
Dharamshala: "A total of 42323 persons are put under home quarantine in Kangra district of the state till  Tuesday , and the figure will be added with another 1000 today , as the incoming traffic of the public is on from other state," said Rakesh Prajapati D C Kangra. He said that 188 persons have arrived today in the first special train  which reached Una from Bangaluru, and all of them were put in institutional quarantine for28 days at Dehra, Jwalaji and Kangra. DC added that though the in coming flow on passes to Kangra from othert states have reduced a lot but yet another 8000 people are still expected to come to raise this figure to 50,000.
DC said, " till date 1650 samples of the district were tested in Tanda, and 15 people were tested positive. 5 of them have recovered and returned back to their homes, 10 are tested positive after the government allowed stranded people to come back from other states." He said the capcity of sample testing which is 150 a day at Dr RP Medical College Tanda til today is being increased to 300 from tomorrow to go up to 450 in couple of days.
Prajapati said, "there is only one death registered diue to Covid in the district so far, whereas 958 persons lost their lives due to other reasons in the district in a period from 24 th April to 8 th May. So considering this one should not panic of Covid. We are expecting a further rise in Corona cases in the district as many people are coming to the district ,and we are aware of the situation and ready to tackle it. I also request every body to take special care during this pandemic."
He said that Zonal Hospital has been dived in to two blocks, one for Covid and other for OPD, similarly 10 flu hospitals are oprating in the districts, so that the serious cases can visit there.
DC Kangra said that the persons breaking home  quarantine shall be taken to institutional quarantine and shall be fined rs 50,000 and if unable to pay, the said money could be had by selling their land.