Swar Saptak Society's cultural program held virtually on Durga Puja and Navratri 
Various cultural presentations were highlight of the evening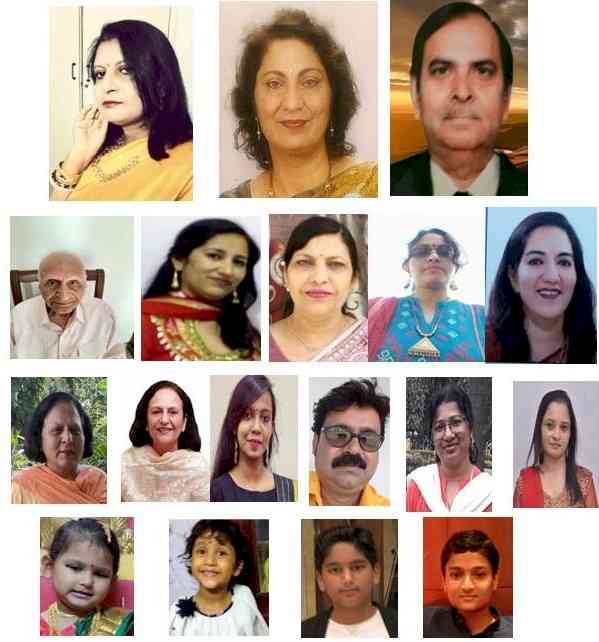 Chandigarh: Organiser Dr. Sangeeta Choudhary, President of Swar Saptak Society  is recipient of Sayiada Isabella award from Bangladesh, Nazrul Puraskar from West Bengal, Award from International Research Centre, and many more awards from different countries.
Dr. Sarita Mehta, the Chief Guest is  President of Vidyadham in U.S.A., also a story & drama writer. 
Prem Vij, was the Special guest of program. He is a President of Samvad Sahit Manch, Chandigarh and writes proactively on poetry, satire, story and criticism. 

Many artists participated in the program. These include: Raghav Goyal - Sanskrit Shalok (Mata Durga); Aarusha Uppal - Mata Durga Bhajan (Jagadambe Jai, Jagadambe Maa); Baby Trishita Chatterjee (West Bengal) - Dance (Ai Giri Nandini); Baby Adrija Goswami (West Bengal) - Pooja Dance Bengali; Debdatta Biswas (West Bengal) - Shalok dance of Maa Durga (Sanskrit shalok) - Ahem Rudreya; Amandeep Kaur - (Mata Bhajan) - Red Bangles; Trupti Gupta (Shalok Songs of Maa Durga) - Ya Chandi; Krishna Bhattacharya - (Maa Durga Bengali hymn); Sunita Kaushal (Raga Durga) Goddess Bhajo Durga; Suman Chaddha (Mata Bhajan) Jagadambe Jai Jagjanni's maa; Ruma Soni (Mata Bhajan) Jag Mag Jyoti; Dr. Sangeeta Chaudhary (Mata Bhajan) Jago jago jago maa; Avinash Chandra Mehra (93 years) - Maa Durga Bhajan; Chiranjeev Roy (West Bengal) - Poem on Mata Durga; Neeru Mittal - Poem on Maa Durga and Minakshi Uppal - Anchor of the entire program.

Each participant had made a memorable contribution to the programe. Singing artists voices are very melodious, they it take us to the another world of Religious  Music. Dancing artists performance was so nicely done, that everyone loves it. The whole programme was very enjoyable by everyone. Meenakshi Upaal had made a great contribution by anchoring in the programme.