Suspension of development fund is unjust: MP Manish Tewari
He writes letter to PM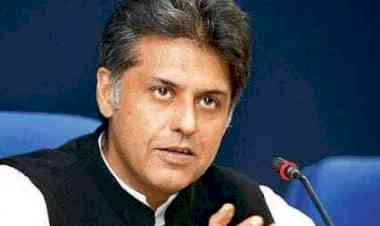 Manish Tewari, MP from Sri Anandpur Sahib.
Chandigarh: Manish Tewari, MP from Sri Anandpur Sahib, has written a letter to Prime Minister Narendra Modi saying that suspension of MPLAD Funds was unjust and there were other means and ways to fight COVID 19.
In a letter to the Prime Minister, MP Tewari has said that he can understand the reason for the 30% reduction in the salary of MPs, but it seems an injustice to suspend the MP Fund for 2 years.
"This seems to be an ill-judged decision, which was bound to get a backlash", he said, while adding, "Just as the 4-hour notice for lockdown has put the poor, backward, needy people in trouble and the results are in front of everyone". In such a situation, the expenses incurred in fighting Covid -19 can also be considered, he said.
Tewari disclosed that the Parliament had recently passed a budget of Rs.30.42 lakh crore. However, the receipts are lower than anticipated and the budgetary deficit limit can always be relaxed under the Physical Responsibility and Budget Management (FR BM) Act. In such a situation, has the expenditure on disease prevention, treatment and infrastructure increased so much? he asked, while pointing out, "We are in the beginning phase of the financial year". Whereas in the recently concluded parliamentary session, the Finance Minister assured both the Houses that the financial position of the government is good and the economy is very strong in principle.
He said, he was confident that after just two weeks, the Finance Minister is not realizing that the situation has changed and a dramatic change is needed in the government's favour. Was the government acting excessively or did it hide something from the Parliament and the people of the country, he asked. Is there any need to panic, he further asked.
He suggested that priorities can be changed. For example, the money can be spent fighting Covid-19 by avoiding the plan to redevelop the Central Vista on Rajpath at a huge cost of Rs 20 thousand crore, he observed.
In addition, a committee can be formed to identify or rationalize the areas associated with government spending and finally at last  MPLAD should be touched the MP said.
He stressed that the MP Fund is like a readily available tool for solving problems on a small scale when needed by public representatives. It is very important to help the needy sections of the society. In such a situation, he appealed to the Prime Minister to reconsider the decision to suspend MPLAD for 2 years.
This will not help the battle against Covid-19, but will in fact end up harming the battle, he remarked.