Summer camp organized by PCM SD Collegiate School
The camp came to an end with a session on physical fitness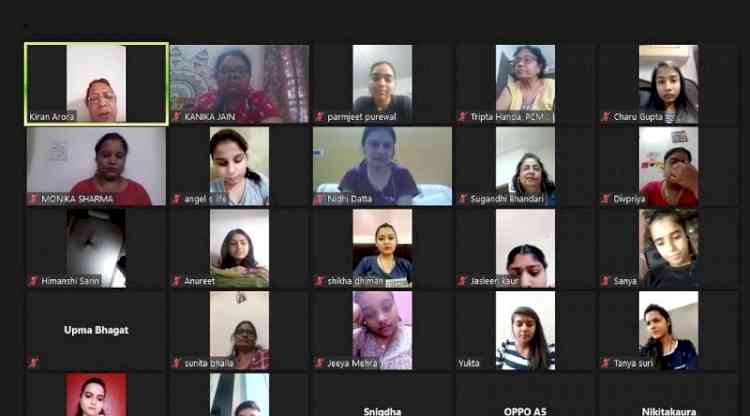 Jalandhar: Even though Corona has made this year a mess, but even in this difficult time SD family united together from 25 May to 31 May and a summer camp was held at the Collegiate Senior Secondary School. 
This summer camp was inaugurated by Principal Dr. Kiran Arora and Sangeeta Sharma, In-charge of the school. A number of activities were conducted by Mrs. Monica Sharma during this camp organized online at Zoom App: Miss Soni from the Department of Fine Arts taught the tricks of painting and shedding of course. From the department of cosmetology, Mrs. Daljit Kaur and Miss Apeksha Bajaj gave tips related to skin care and party makeup. 
Mrs. Sunita Bhalla and Miss Bharti from Fashion Designing Department told about painting with vegetables on top of clothes. Mrs. Monica Sharma of Comp Science taught how to make powerpoint presentation effective and use e-payment in view of Corona. Yoga guru Shri Shwetank Anand told the students about the importance of yoga and meditation in daily life. He said that yoga practice also helps the students to put their mind to the feet. The students attended the dance session organized by Dr. Sugandhi and Miss Reema of Dance Department with great enthusiasm. 
The camp came to an end with a session on physical fitness by Mrs. Paramjit Kaur (Department of Physical Education). Miss Upma Bhagat of Punjabi University, Patiala also attended this camp. Dr. Kiran Arora, while praising the students and teachers, said that the main objective of his institution is the all-round development of the students and to develop the basic qualities and moral values of life in them. Mrs. Sangeeta Sharma praised the efforts of the members of her summer camp team. Mrs. Sushma Sharma, Mrs. Trupt Handa, Mrs. Sunita Bhalla, Miss Nidhi, Mrs. Shikha also graced the camp with their presence.