Sumil Chemical Industries launches TRION ZFS & BLACK BELT insecticides
TRION ZFS - World's first insecticide and nutrient combination in the form of W.G. formulation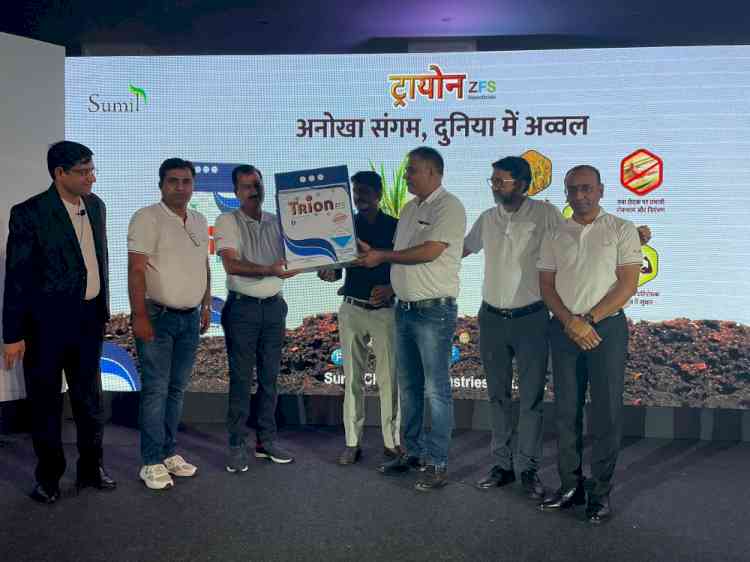 Zirakpur/ Chandigarh, May 19, 2022: Sumil Chemical Industries Private Limited, launched two New 9(3) Insecticides named as TRION ZFS and BLACK BELT at a programme held at hotel Radison Zirakpur today. TRION ZFS was launched in the presence of Rajender Akhani, President, Sales, Hitesh Patel, VP Marketing, NB Patel, National Sales  Manager, Radhey Shyam, Head Crop Protection and Chirag Darji, Marketing Services.
Bimal Shah, MD, SML group mentioned that SML Group is  a technology leader in advanced formulation, serving more than 85 global farming countries for 5 decades having one of the world's largest ultra-modern manufacturing capacity of environmentally friendly, high quality and biologically efficient formulations like WDGs, CSs, EWs, SCs, ZCs .A dedicated State-of-the-Art R & D Center with expertise in developing novel formulation platform technology with growing Global Patent Portfolio.
TRION ZFS is world's first insecticide and nutrient combination in the form of W.G. formulation developed by Sumil Chemical Industries to combat the deadly Yellow stem borer. The product details were shared by Radhey Shyam, Head Crop Protection at Sulphur Mills limited. He said that the product is one of a kind because the inert materials used for the formation of insecticides are replaced with Sulphur 70% and Zinc Oxide 13%, replacing the inert/ non active compounds with nutrition leading to protection of plants from harmful inerts. It also leads to providing required nutrition to the plants not only that but it is also beneficial for soil health. Hence getting its tagline - "Anokha Sangam Duniya Me Awwal".
TRION ZFS being a WG based product makes its application easier. It is suggested to apply 4 Kg /Acre after 15 to 20 days of transplanting in paddy and in direct sown paddy after 25 to 30 days of sowing by uniformly mixing in soil or fertilizer. This time slot is the most effective to provide a protective shield against the stem borer and as this initial tillering is critical stage of crop for Nutrition perspectives as well, so TRION ZFS is the best choice of farmers as its World's first insecticide and nutrient combination product.
BLACK BELT: is a dry cap technology based product having water dispersible granules (WDG) formulation with controlled release properties is the unique differential factor along with other benefits like quick know down, longer residual control and no smell, hence its tagline is "Chadhi Jawani Badde Ko". It is suggested to apply it 270-300 gm/acre and with 200 liters of water for controlling Stem borer in Paddy.