Sukhwinder Singh Bindra honours sportspersons at Guru Nanak Stadium
Assures full support from Punjab government for budding sportspersons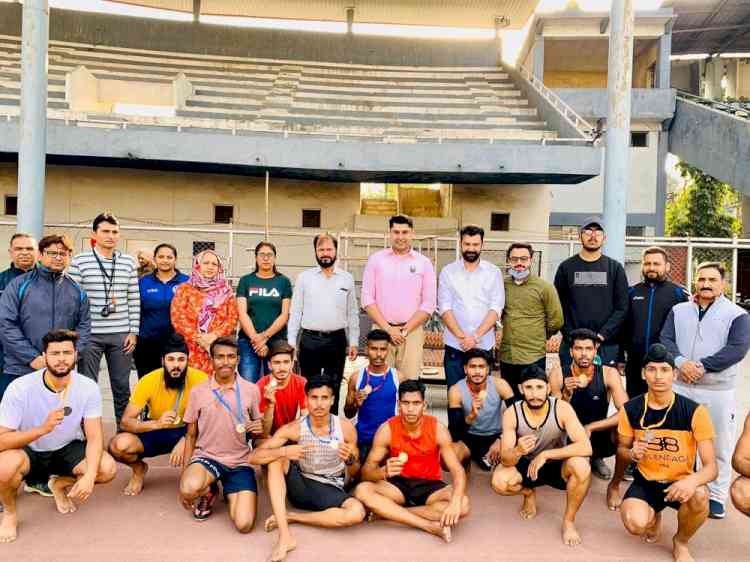 Ludhiana: Under the "Youth of Punjab" campaign of the state government, Punjab Youth Development Board chairman Sukhwinder Singh Bindra visited the Guru Nanak Stadium, here, and honoured the winners of the 4X400m relay. On this occasion, he not only interacted with the sportspersons but also announced that the first 3 winners of all categories participating in this tournament would be honoured with a special sports kit.
Prominent among those present on the occasion included District Sports Officer Ravinder Singh, Nitin Tandon, besides several others.
Presiding over a function, Punjab Youth Development Board chairman Sukhwinder Singh Bindra said that the state government is committed for bringing revolutionary improvement in the sports sector and leaving no stone unturned to promote the sports among the youth of the state. He said that the distribution of the sports kits among them is one of the steps in this direction so that sports culture can be brought back in the state. 
Bindra told that the aim is to engage the youth of the state in the sports by channelizing the unbounded energy in the right direction as they have huge talent and potential. 
He added that Punjab would soon emerge as a front runner state in the arena of sports and distribution of the kits would prove a catalyst in bringing revolution in the sports at the grassroots level.
Chairman Sukhwinder Singh Bindra also lauded the industrialists for sponsoring the kits and said that they have joined the hands with the government to encourage the sports and laid the foundation of a great movement aimed at revival of the sports.