Sukhwinder Singh Bindra comes to aid of National Para-Karate Athlete
Provides financial support and assures job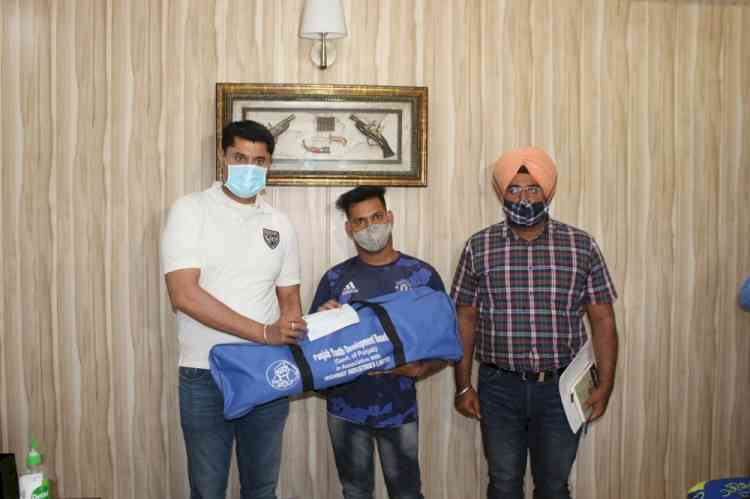 Ludhiana: Coming forward to help National Para-karate athlete Tarun Sharma of Khanna, Punjab Youth Development Board (PYDB)  Chairman Sukhwinder Singh Bindra on Wednesday assured him fulsome support and said that he would take up the matter of providing job to him at the earliest.
Providing financial support of Rs 5100 and sports kits at his office, Bindra said that the player has made the state proud by achieving stupendous success at national and international tournaments. He said that it was a matter of great honour for all Punjabis that Sharma has made a niche in the game with his sheer hard work and dedication.
He said that he would hold consultations with the director of sports Punjab regarding the permanent job to Sharma at the earliest so that he can continue his training and can bring more laurels to the state and country in the field of sports. He said that he would also write to Sports Minister in this regard so that steps can be initiated to support Sharma and his family at this time.
Meanwhile, Binda also called the officials from the DBEE office and directed them to find a suitable job for Sharma for the time being.
He expressed hope that the hard work of Sharma would go a long way to inspire millions of his peers who strive hard to excel in the arena of sports.  
Singh added that the Punjab government is leaving no stone unturned to make Punjab a hub of sports in the country. He said that every effort is being made to ensure the holistic development of players so that they can compete across the globe.
He said that the sportspersons are blessed with special qualities and one of them is that they develop a team spirit during the game, which can help them to excel in their lives.