Sukhbir Badal asks CM why Cong party hood winked farmers for 5 years if it did not have any intention of waiving off their loans
Also condemns Channi for not doing justice with cotton growers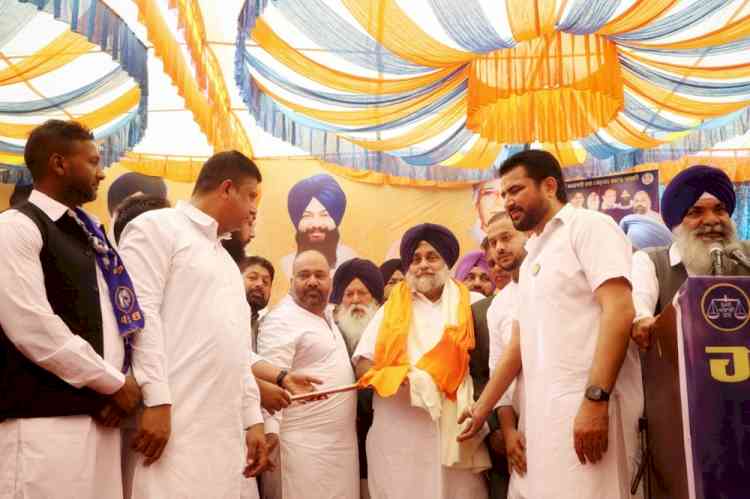 Phillaur, November 17, 2021: Shiromani Akali Dal (SAD) President Sukhbir Singh Badal today asked chief minister Charanjit Singh Channi to tell farmers why the Congress party had hoodwinked farmers for the last nearly five years if it did not have any intention to waive off their loans as promised on the holy Gutka Sahib.
 
Addressing public meetings here in favour of SAD-BSP candidate Baldev Singh Khaira, the SAD president said it was shocking that the chief minister had in his meeting with Samyukt Kisan Morcha (SKM) representatives made it clear that the Congress government would not waive off the loans of farmers as promised by it. "This proves that the Congress government made false promises on the holy Gutka Sahib with the sole aim of bagging farmer votes in the run up to the 2017 assembly elections. Channi must seek forgiveness from farmers for this perfidy".
 
Sukhbir Badal also condemned the chief minister for still not doing justice with cotton growers whose crop had been damaged due to pink bollworm attack in the Malwa region. He said though the farmers has suffered a loss of more than Rs 40,000 per acre, the government was not even offering them the relief of Rs 12,000 per acre and was trying to limit it between Rs 3,000 to Rs 5,000 per acre by stating that only a small portion of the crop was destroyed.
 
Asking the chief minister not to indulged in skullduggery with farmers as well as the ordinary man and even scheduled caste students who were still being denied their scholarships amounting to Rs 1,800 crore, Badal said "Channi says one thing and does another. He cannot be trusted at all. He is more interested in garnering cheap publicity by putting up posters claiming the moon when the reality is that he has not delivered on any of the promises made by the Congress party".
 
During his visit to this assembly segment, the SAD president held various public meetings at Phillaur cuty, Goraya, Gohawar and Takhar villages.He also held one on one interaction with different sections of society where he shared his vision for the inclusive growth of Punjab. While answering the public queries, he gave a broad outline of the road map he envisioned for the state on forming the SAD-BSP government early next year.
 
 
Badal also paid obeisance at various religious places including historical Hanuman Mandir Vaishno Devi temple, Bhagwan Valmiki mandir, Shiv Mandir, Gurdwara Takhtgarh Sahib and Guru Ravidass mandir in Phillaur. He also visited the renowned Burfi wala at Goraya and partook of sweets there. Later in Phillaur market, he ate street food and also held a freewheeling discussion with the shopkeepers.
 
 
The day long activities had started with a massive road show where hundreds of motorcycle borne youngsters of YAD and SOI received him on national highway and escorted him to different locations. Among others, Jalandhar Rural district president and MLA Gurpartap Singh Wadala and BSP leader Lal Chand Aujla accompanied the SAD president. Mr Badal also paid floral tributes to social reformer and writer Shardha Ram Phillauri and Dr BR Ambedkar.