Successive Akali Dal, Congress, govts hell-bent on erasing martyrs' memorials in state:  AAP
The AAP MLAs visited the memorial (statue) of the martyr at Shaheed Udham Singh Chowk and submitted a memorandum to Deputy Commissioner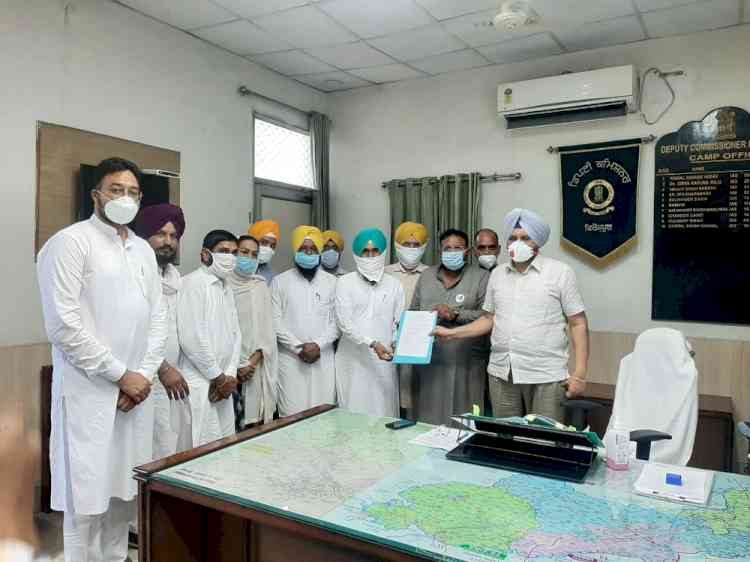 Ferozepur: The Aam Aadmi Party (AAP) Punjab has taken strong exception to the local administration's move to denigrate the honour of the historic Udham Singh Chowk here, dedicated to the great martyr Sardar Udham Singh.

AAP MLAs Manjit Singh Bilaspur (Nihal Singh Wala) and Kulwant Singh Pandori (Mahil Kalan) on Thursday reached Shaheed Udham Singh Chowk, along with local leaders against the administrative action of converting Shaheed Udham Singh Chowk into a clock tower.

Accompanied by local leadership, the AAP MLAs visited the memorial (statue) of the martyr at Shaheed Udham Singh Chowk and submitted a memorandum to Deputy Commissioner (Ferozepur) against the move.

Addressing the media after laying wreaths on the statue of the martyrs, Manjit Singh Bilaspur and Kulwant Singh Pandori said the Congress and SAD-BJP governments, which had been changing hands in power for more than 74 years, had undermined the honour of the martyrs who laid down their lives for their motherland, alleging they were hell-bent on erasing their memory by way of converting the memorials dedicated to them. They said the AAP would not allow insult to the martyrs and their monuments at any cost. 

Others, who were present on the occasion, included, Bhupinder Kaur, Ranbir Singh Bhullar, Chand Singh Gill, Naresh Kataria, Amritpal Sodhi and other local leaders of the party.