STUDENTS THANK PUNJAB GOVERNMENT FOR BRINGING THEM BACK HOMES FROM RAJASTHAN
SAYS, GOVERNMENT NOT ONLY ARRANGED BUSES FOR THEM BUT ALSO PROVIDED MEAL AND ARRANGED HEALTH SCREENING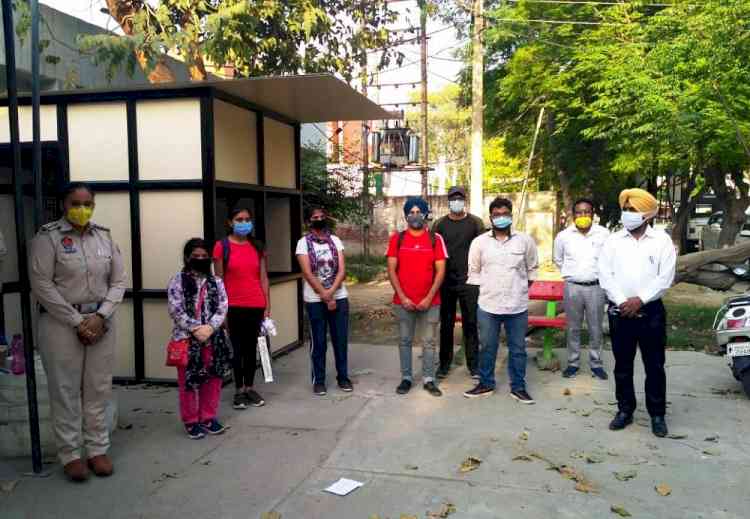 A PHP Error was encountered
Severity: Notice
Message: Undefined variable: adscodetext
Filename: post/post.php
Line Number: 152
Backtrace:
File: /www/wwwroot/cityairnews.com/application/views/post/post.php
Line: 152
Function: _error_handler
File: /www/wwwroot/cityairnews.com/application/controllers/Home_controller.php
Line: 3419
Function: view
File: /www/wwwroot/cityairnews.com/application/controllers/Home_controller.php
Line: 264
Function: post
File: /www/wwwroot/cityairnews.com/index.php
Line: 319
Function: require_once
Ferozepur: Amid the nation-wide lockdown, the first batch of six students from the Kota district of Rajasthan safely returned to their home district Ferozepur as special buses arranged by the Punjab government ferried them to their homes on Monday.
 On their return, the students not just expressed their gratitude but also lauded the efforts made by the state government to bring them back home. Most of the students were pursuing medical and engineering courses in Kota and were happy to be home.
Salin Kumar a resident of Ferozepur Cantt said that he was preparing for the medical entrance exams in a coaching institute at Kota and was stranded there due to lockdown. He further added that he would like to express his gratitude towards the efforts of Punjab government which not only arranged buses for them but also served them breakfast, lunch, and dinner during their journey. He said that to provide them a comfortable journey the buses equipped with sleeper seats were arranged by the government which was an appreciating move.
Another student Deepika said that she was also preparing for the medical exam and had completed her coaching in Kota district of Rajasthan but due to lockdown she along with her friends got stuck there adding she said that she took a sigh of relief when she came to know that the Punjab government had dispatched a convoy of buses to take all the students to their homes. She said that the students were overwhelmed by the treatment they received during their journey especially a well-managed health screening by the health department at various check posts at Punjab-Rajasthan border.
Similarly, onboard students Tajinder Singh from Zira subdivision, Survi Kumar from Ferozepur Cantt, Ved Bajaj and Neelam Kumari from the city area termed the state government's efforts as a unique initiative to extend a helping hand to its stranded residents. All the students were being dropped to their homes and their parents were informed about their arrival at Ferozepur district.
Meanwhile, Kulwant Singh Deputy Commissioner said that the state government was taking a string of measures to safely bring back its residents not only from other states but also from foreign countries. The DC said that SDM Ferozepur Amit Gupta and other senior officials from the district administration were personally monitoring the whole process and extending fulsome support to the people coming back to their homes.