Students excited to join BVoc and MVoc Programs run by DDU Kaushal Kendra awarded to KMV by MHRD GoI
KMV first college of GNDU to be awarded DDU Kaushal Kendra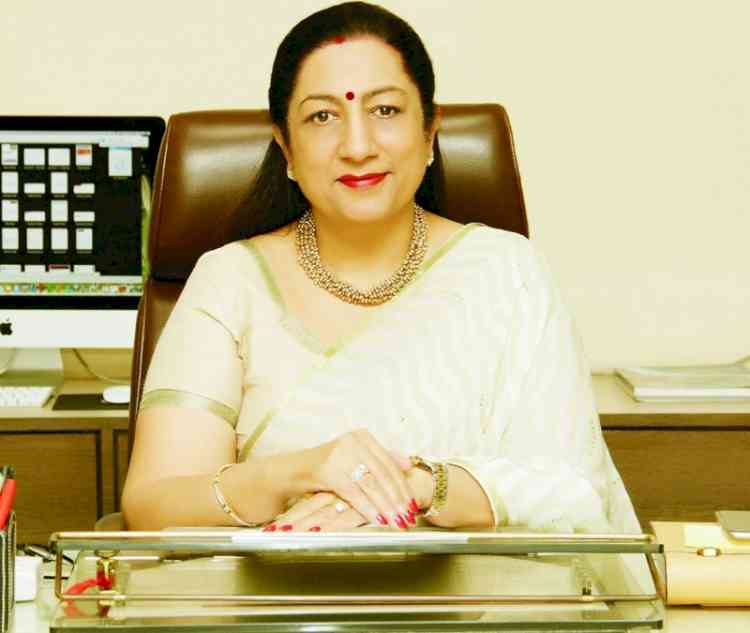 Principal Prof. (Dr.) Atima Sharma Dwivedi


Jalandhar: Kanya Maha Vidyalaya was the first college under Guru Nanak Dev University, Amritsar to have been awarded the Deen Dayal Upadhyay Kaushal Kendra by the  Ministry of Human Resource Development back in the year 2015.

Throwing more light on this, Principal Prof. (Dr.) Atima Sharma Dwivedi averred that since 2015 KMV is successfully running these Skill Development courses at KMV. These various B.Voc. & M. Voc. programs aim at equipping the students with vocational and entrepreneurial  skills. Presently, KMV is running seven B.Voc courses namely Animation, Retail Management, Textile Design and Apparel Technology, Nutrition, Exercise and Health, Management & Secretarial Practices, Photography & Journalism, Beauty & Wellness and three M. Voc. courses in Animation & VFX, Retail Management, Textile Design & Apparel Technology. Many job avenues are available for all pursuant of these courses. For the students who have done B.Voc. in Animation many avenues like 3D Modeler, Animators, Art Director, Video Editor, VFX Editor etc. are available. Those who pursue B.Voc. in Retail Management can become retail sales associates, store Managers, Produce Managers etc. After completing B.Voc. in Textile Design and Apparel Technology one can become assistant designer, pattern maker, graphic designer. The student pursuing B.Voc. in Photography & Journalism can make a career in the media sector and can also become a professional photographer. The  student having B.Voc in Nutrition, Exercise and Healthcare can  become a yoga instructor, Gym Instructor, health advisors & nutritionist etc. After completing B.Voc. in Management & Secretarial Practices many jobs like tally operators, graphic designers, advertisement designers & office Secretariats etc. are available. 

Prof. Atima Sharma Dwivedi also adumbrate that eligibility for joining these courses is 10 +2 in any stream & age is also no bar. All these vocational programs have tie-ups with the leading names in their particular streams. In B.Voc Retail Management there were excellent Placement. It is worth a mention here that our student of diploma in Animation, Sukhmanpreet has got the privilege to work as paint artist in Hollywood movies which include Jumanji, Pacific Rim and Indian movies like Padmaavat. The students are given top class industrial training as we have tie-ups with industries like Sector Skill Council FICCI-MESC Government of India, RASCI-Retailers Associations Skill Council of India etc. The high tech  and fully equipped  labs with state of art infrastructure are the attraction for the students as KMV is fully equipped with modern Animation Lab, highly advanced audio & video studios, highly advanced boutique for fashion designing students & a professional salon for training the students in cosmetology. Students joining vocational studies have dual benefits. A Degree from the affiliating university and Sector skill certificate awarded by NSDC MHRD- Government of India. Industrial Tie-ups with the leading companies like Aditiya Birla, Pantaloons, Big Bazaar, Shoppers Stop, VIP Motion Pictures, Pritam Film Production, Dainik Jagran, Punit Arora, One Design Solutions, Sourabh Gupta and many more for the students' internship/trainings & for the best industrial exposure for excellent placement of KMVites.