Storm, rain uproot trees, electric poles in and around Dharamshala
Heavy rainfall, thunderstorm predicted on July 8 and 9 in Himachal Pradesh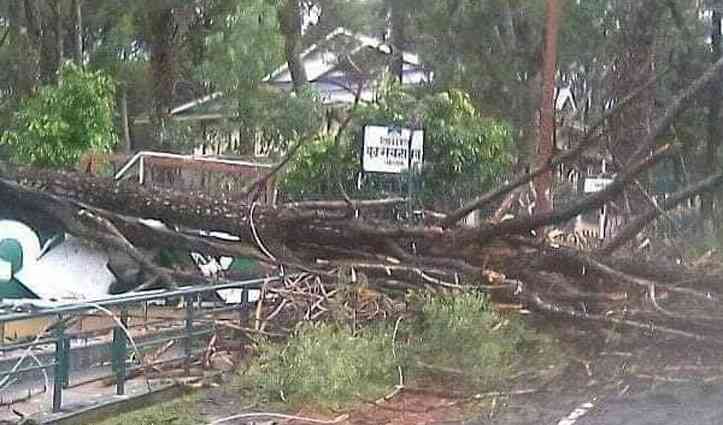 Dharamshala: The Meteorological Department in the state said that as monsoon is active in Himachal, there was a widespread Rainfall occurred at most places over the state during the last 24 hrs. Minimum temperatures decreased by 2 degree Celsius to 3 degree Celsius and no appreciable change in Maximum temperatures during the last 24 hours. It predicted heavy rainfall, thunderstorm and lightning likely at isolated places on July 8 and 9 whereas rain with thunderstorm predicted in almost all places of the state in the next 8 days.
Department said that according to rain recorded for past 24 hours till 8 am on Sunday, Dharampur was the wettest place with 54 mm rain followed by Palampur-50, Dharamshala-48, Mehre-43, Nagrota Suriyan-42, Jatton Barrage-41, Kufri-38, Baijnath & Aghar-37 each, Gaggal-36, Shimla-, Una & Jogindernagar-32 each, Nadaun-31, Manali & RL-1700-27 each, Bharari-25, Mandi & Naina Devi & Sujanpur Tira-24 each, Kothi-23, Sundernagar-22 and Solan-21 mm of rain.
Heavy rain and high-speed winds did heavy damage in and around Dharamshala in the night between July 4 and 5.
The rain and storm have changed the face of many areas of Smart City Dharamshala. On Sunday, at midnight, electric wires fell on the road and many trees uprooted. There has been heavy damage from the falling of trees around the martyr memorial in the city. Heavy  damage has also been reported in the area around Himachal Pradesh School Education Board amidst a severe storm. Trees fell everywhere and blocked the road in the city. The electric supply remains distrusted till morning.
Heavy damage due to the storm have also been reported from Nagrota Suriya, Jawali and the surrounding areas. Traffic on the main road between Palampur and Kalu di Hatti was affected. Thankfully, no vehicle was hit by felling of trees. Damage due to the storm has also been reported from Panchrukhi, Taitahal, Dilip Nagar, Nadli, Bagehar, Govardhan Nala, Patti, Bandu, Bharwana, Samiana and Moli Chakka areas of the district.