Stop Central Vista project and divert money towards free covid treatment and vaccination to all: IDPD 
A demonstration held today as a part of nationwide campaign of the IDPD for "Vaccine to All – Medicines to All"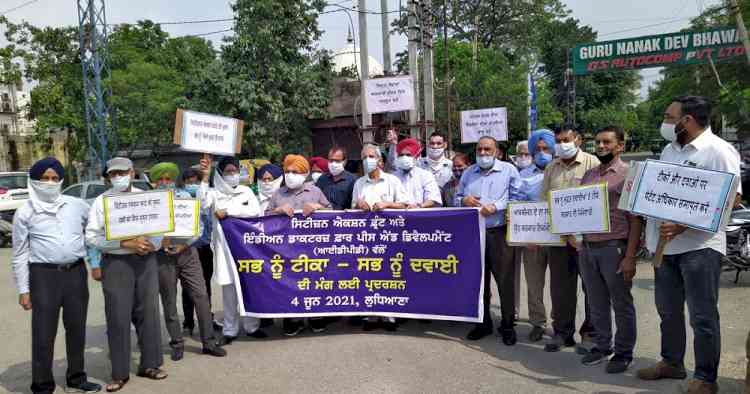 The Citizens Action Front Ludhiana and Indian Doctors for Peace and Development (IDPD) holding a demonstration in Ludhiana today.


Ludhiana: With a demand from the government to ensure free vaccination and free medicines to all the Citizens Action Front Ludhiana and Indian Doctors for Peace and Development (IDPD) held a demonstration today as a part of nationwide campaign of the IDPD for "Vaccine to All – Medicines to All". 
Addressing the gathering, among others Dr Gurvinder Singh, Jagdish Chand, Paramjit Singh, Ramesh Rattan added that utter failure of the government in managing the COVID Pandemic has put lakhs of people in physical, mental and economic stress. The healthcare system is thoroughly exposed. As the government was busy in other affairs it failed to procure vaccines at a proper time and so now we are facing difficulty in vaccinating our population. The dual cost policy of the vaccines is irrational and a clear cut denial of vaccination to the low economic group of the society. 
Further, they said Adaar Poona Wala had said that they are making profit even in the vaccine by selling it at₹ 150 then why it is being Given at the rate of₹ 850 under dual pricing policy. Even GST is not being taken off from the vaccine. Professor Jagmohan Singh speaking on the occasion questioned that why Central Vista project is not being stopped toward the COVID care. He also demanded that the PM Cares fund should be made public how it has been used in this COVID situation. Poor people who lost their jobs and livelihood should be compensated by the government at the rate Rs.7500/-  per month per family till the situation eases. 
Dr.Arun Mitra said that it is apparent that Ramdev is speaking at the behest of some very higher ups otherwise why the Prime Minister and the Health Minister should keep mum and not impose disaster act or the pandemic act against him for his absurd and dangerous utterings challenging the very medical treatment and vaccination. 
Dr Gagandeep Singh said that Ramdev should be booked under pandemic act and put in jail. 
M S Bhatia said during the last wave the people had taken initiative to give ration and food to the needy and this time also several organizations are organising oxygen langar. It is unfortunate the government did not prepare even in over one year to meet the crisis despite warnings by the medical experts. 
Prominent among those present were Dr Suraj Dhillon, Dr Gursharan Singh, Adv.Naval Chibber, Vijay Kumar, Vinod Kumar, Kulwant Kaur and Charan Sarbha.