Steel price and plastic raw material hike if not controlled will lead to closer of number of MSMEs
CICU holds a press conference to discuss about steep hike in raw material prices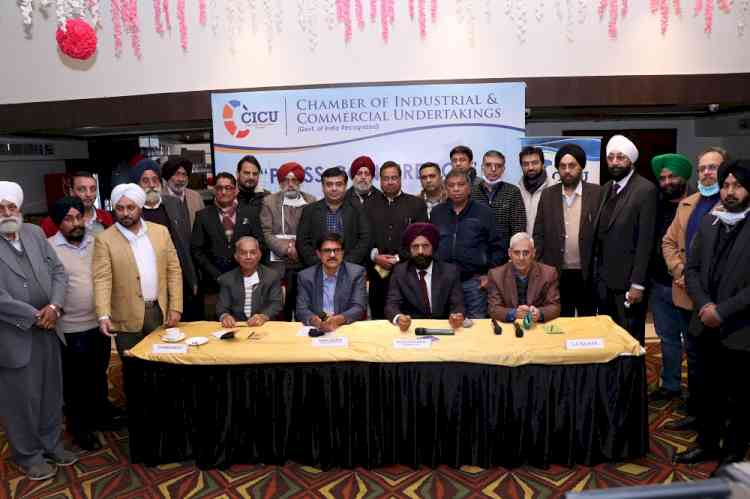 Ludhiana: Today, a press conference was organized by Chamber of Industrial and Commercial Undertakings (CICU), Ludhiana to discuss about steep hike in raw material prices.
 
Upkar Singh Ahuja, President, CICU emphasized that Steel is one of the prominent Raw Material for engineering Industry. It is processed and after value addition is sold as finished products to Automotive, Tractor parts, Hand Tool etc. companies.
Steel prices have gone up from Rs 42 per Kg to Rs 65 per Kg for CRC sheet and HRC sheet has gone up from Rs 36 per Kg to Rs 56 per Kg in last 5 months. Moreover Re Rolled steel has gone up by Rs 10 per Kg. Plastic has gone up by Rs 15 per Kg.
As per various reports published in Newspapers, reason for steep rise in steel prices is:
•    Rise in demand of steel.
•    Low production of steel due to Crona.
•    Export for steel has gone up.
•    Cartelization by steel company.
Recent News show that large steel rolling mills are preferring to export steel. They have booked around 10000 t HRC (re rolling grade) $ 735/t FOB for Jan – Feb '21 for Europe. Another mill booked 20000 to 30000 Ton HRC @ $ 705-710 per Ton/ FOB to Middle East. Although these mills are earning foreign exchange by export of steel but it's hampering export of finished goods which attract more value addition. Steel price per Kg range between 50-60 per kg whereas goods manufactured like Auto parts, Hand Tools, Bicycle Parts, Sewing Machine Parts sold at Rs 200 to Rs 350 per Kg and it provide employment of 110 Million in MSME in India. MSME will not be able to book order considering current Raw Material price and number of MSME's will be forced for closer due to this Turbulence.
CICU demands as under:
•                    Export of steel should be banned for Six months.
•                    Import duty of steel to be Zero.
•                    Maximum Incentive must be given under the stimulus package announced by Hon'ble Finance Manager Smt. Nirmala Sitharaman to be given maximum to MSME. It has been declared under production linked incentive in 10 champion sectors.
•                    Cartelization to be control.
•                    Betting / speculation in steel must be curbed by Government.
 
Pankaj Sharma, General Secretary CICU added that due to steep hike in raw material prices the industry is in panic situation. He also said that According to a brief survey, in the last five months, the price of stainless steel increased by 32%, to ₹200 a kg, aluminium by 26%, to ₹210 a kg, and natural rubber by 52%, to ₹156 a kg. Copper, a key component for many in the MSME sector, has touched ₹600 a kg, an increase of nearly 77%.
 
He also added that Govt. should provide long term policies to save MSME. The service sector will also be affected by the same. prices of certain raw materials have gone up, industries giving orders are not able to match the prices and units are forced to shrink our margins to stay afloat, in result, the companies will not be able meet their overhead costs, which will result in defaults and non-payment of benefits and salaries to employees.
 
Onkar Singh Pahwa, M.D Avon Cycles Ltd. joined the meeting through Video conference and highlighted the impact of increasing prices of Steel. He said that industry is already going through very tough time and not in situation to bear the losses. Due to this the units will decrease the production and also affect the employment.
 
Amrik Singh Nexo mentioned that We have long term contracts with costumer and due to prices increase the orders will cancelled.
 
J.S Bhogal, Publicity Secretary, CICU said that MSMEs are exporting steel from China and as China is major competitive to India in term of Bicycle Parts, Hardware, Auto Component, Hand Tools, Sewing Machine are difficult to manage cash flows. Chinese suppliers are not increasing prices which is difficult for India to Survive.
 
Avtar Singh Bhogal, Prominent member of CICU mentioned that MSMEs are facing problem to get export orders for Bicycle Parts and cost of production will go-up.
 
S.B Singh, Joint Secretary, CICU mentioned that service industries are badly hot, but the effect is invisible \, not seen such a recession in last 30 years and MSMS schemes are on hold.
 
S.C Ralhan, mentioned that steel prices increased worldwide and other countries increased the prices by 25%., whereas in India it has gone up by 45%. Order started cancelled now, both way industry in trouble The only solution is Ban on Export of Steel.
 
Anil Bedi added that Regulatory Authority of Steel to be established.
 
Rajnish Ahuja present the vote of thanks and urge the Govt. to resolve the issue as earliest.
 
The meeting was attended by S.C Ralhan, Avtar Singh Bhogal, Rajnish Ahuja, Amarjit Singh Swan, O.P Bassi, Subhash Gupta, Honey Sethi, Jaspal Singh Shahpuri, G.S Dhillion, Rajnish Bansal, J.S. Bhogal, S.B Singh, Didarjit Singh, Gautam Malhotra, Sanjay Dhiman, Sarvjit Singh, Satinderjit Singh Atom, Anil Bedi, Ravinder Saini and other prominent members of CICU were also present in the meeting.