State-level webinar for youth organised at SCD Govt College and Government College for Girls
The main objective of this seminar was make the youth aware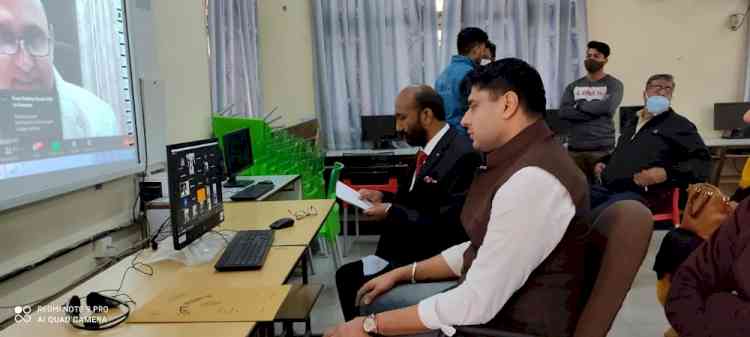 Ludhiana: A state-level webinar was organised at the S.C.D. Govt. College for Boys and Govt. College for Girls in Ludhiana to create awareness about Opportunities and Beneficial Schemes for the Youth of the state. In this Seminar Mr. Sukhwinder Singh Binder, Chairman, Punjab Youth Development Board, was the special guest.

Mr Sukhwinder Singh Bindra informed that the main objective of this seminar was make the youth aware regarding the Policies, Schemes and Programs of the government and efforts were to be made to hear to the grievances of the Youth and resolve them.

Mr Bindra also apprised the Youth about the schemes of the Youth Services Department such as joining NSS Campus, Hiking Trekking Camps, Red Ribbon Clubs, joining in Youth Clubs and also introduced the Ghar-Ghar Rozgar scheme being successfully run by the Government of Punjab.

To make this seminar a success, Chairperson Mr. Bindra assured the support of the entire team of his Punjab Youth Development Board to ensure that the youth do not face any hindrance in future also.

Mr. Bindra said that Punjab Youth Development Board was constituted under the Vision of Chief Minister Capt. Amarinder Singh. Punjab Youth Development Board is also honouring the veterans working under Mission Fateh.

Dr Dharam Singh Sandhu, Principal, SCD Government College, Mr Nitin Tandon, Mr Dimple Rana, were also present on the occasion.