State govt has written to union govt to allow travel of migrant workers back to Punjab: Sunder Sham Arora
Says a large number of migrants want to come back and join their jobs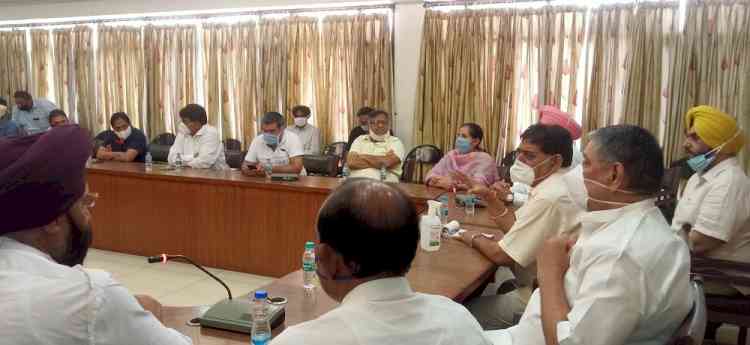 Ludhiana: Punjab Industries & Commerce Minister Mr Sunder Sham Arora today informed that with an increasing number of industrial units resuming operations in the state, the government has written to the Union government to arrange trains for bringing migrant workers who wish to come back from their home states and start working. He informed that the Punjab government had even sent buses to ferry the labour back to Punjab and two such buses reached back Hoshiarpur today.
The Minister informed this while interacting with media persons after a meeting with representatives of industrial organisations at Circuit House, here today.
Mr Arora said that he has written a letter to the Union government to arrange for trains to bring back migrant labourers keen to come back from other states to Punjab. Thanking the industry for supporting the government in ensuring that migrant labourers in the state faced no problems, he also promised all possible measures to ensure smooth reopening of the industry. He also thanked them for taking on the difficult challenge of resuming operations in the midst of the COVID 19 pandemic. He assured the industrialists that the Capt Amarinder Singh led Punjab government is committed to develop Punjab as a industrial hub.
With a view to utilise Punjab capacity in manufacturing of PPEs to fullest, Mr Sunder Sham Arora said that he has written to the Union Minister of Commerce and Industry to consider allowing its exports to other countries in need. He said that he has also written another letter to all Chief Ministers of other states to purchase masks and PPE kits being manufactured by the Punjab's textile industry. He informed that at present, 103 units are manufacturing approved PPE kits in the state.
He said that to assist the industry in this hour of need, the Punjab government has also written to the Union government that instead of another loan, they should waive off bank interest of existing loans taken by industrialists for a period of at least six months. He informed that under the Ghar Ghar Rozgar Scheme, around 20,000 local youth is being trained as boiler operators and their two-year course at ITIs would end this year and it would benefit the industry to a large extent. He said that such industry specific courses have been started in the government ITIs and a large number of youth is likely to join the industry soon. He assured the industrialists that MSME is the backbone of Punjab industry and the state government would not let them suffer.
He informed that for the benefit of industry, new industrial parks, near Mandi Gobindgarh, Mattewara (Ludhiana), Rajpura (Patiala), Mohali and Bathinda are also in the offing. He informed that during the lockdown/curfew, the industry was given several relaxations by the Punjab government and more such relaxations are to be given in next few days.
The other issues discussed in today's meeting included VAT/GST refund, fixed electricity charges, local youth should be trained and given jobs in state industry etc.
The meeting was also attended by MLA Mr Rakesh Pandey, Mr KK Bawa, Chairman, PSIDC, Mr Amarjit Singh Tikka, Chairman, PMIDB, Mr Ramesh Joshi, Senior Vice Chairman, PLIDB, besides several others.