State and industry hampered due to stoppage of rail movement
An urgent meeting of CICU Executive Committee was called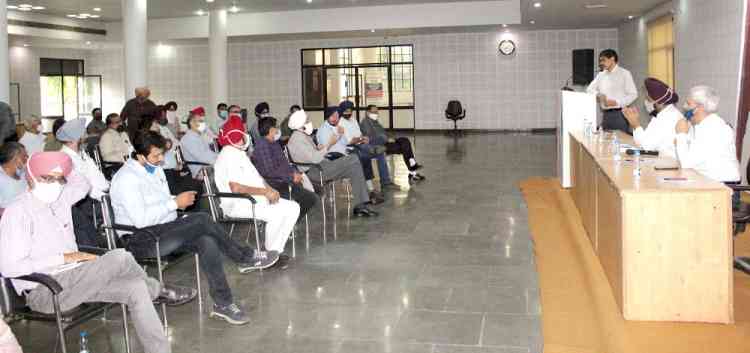 Ludhiana: Today, an urgent meeting of CICU Executive Committee was called to discuss the issue of stoppage of rail movement, as industry is in stress and suffering the huge losses.

S. Upkar Singh Ahuja, President and Sh. Pankaj Sharma, General Secretary, CICU jointly said that Industries which are into import and export business are now under alot of stress as their containers are stuck either at gateway ports or in transit hub ports due to non-movement of rails.

The Following Points were discussed in the meeting:-
•         Factories are closing because of Non-availability of Raw Material & Steel Shortage. Moreover exporters are not able to run the factories. Gravity of the situation is that Industry do not have funds to pay wages in coming month (November).
•         The whole industry is suffering the huge losses and shipping companies are planning to charge on custodian containers.
•         As all ICD's in Punjab are closed due to non-movement of rail the exporters are planning to ship material from Gujrat or Mumbai which will increase their cost.
•         Due to Stoppage of Trains by farmers Industry is suffering a lot and Import & Export continuously are on halt. Raw material is not available, Medium scale Industry is planning to shift to other States. Other States like Haryana & Rajasthan do not have problem, although farmers in their states are also suffering, but those States have maintained Law & order and movement of Goods are smooth in their state.
•         Even during the time when terrorism was on peek and it was black days for Punjab, trains were operated normally.
•         Auto components industry has to supply their manufacturing components on time as the production lines of the Automakers stops due to inability of parts manufactured by Auto Component makers. Industry has to pay heavy penalty, if any delay in supply. 
•        Manufacturer Importers have to halt their production due to inability of  raw materials. Containers are stuck at ICD's or gateway ports and no stocks are available with them to continue smooth productions.
•         Industry will jointly explore legal options to address this issue.
•         Industrial delegation will meet Chief Minister of Punjab and Senior Ministers and request them to take immediate steps to clear the tracks as early as possible, so industry can work smoothly.
 
The vote of thanks was presented by Sh. Sarvjit Singh, Co-convener of CICU Export Promotion Committee and said that Import and Exporters are facing huge losses due non movement of trains and Industry paying high cost for shipment of their containers.

The meeting was attended by over 50 members, some namely are S/Sh. R.C Ralhan, K.K Seth, Avtar Singh Bhogal, J.S Bhogal, Gautam Malhotra, S.B Singh, Honey Sethi, Sanjay Dhiman, Rajveer Singh, Surinder Singh, Manjit Singh, Gurmail Singh, Didarjit Singh, Ravinder Saini, Kulwant Singh, J.P Singh, Rajnish Bansal, Bharat Grover, Rajveer Singh and other senior members of the Chamber were also present.