Star player Nivetha guides TN cagers to gold
Breaks down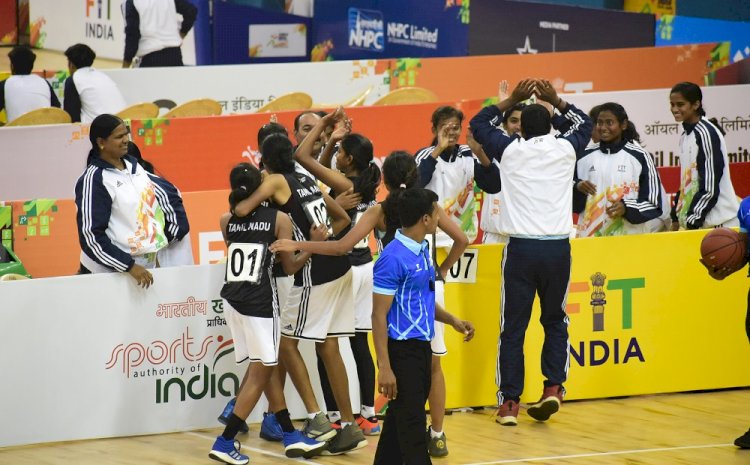 Guwahati: For both, Tamil Nadu and Nivetha Shree, it was third time lucky in the Girls Under-17 basketball competition at the Khelo India Youth Games here on Monday.
 
After two failed attempts in 2019 that saw them finish with silver in the Khelo Games as well as the Youth Games, the team was so thrilled to win a gold medal that the celebrations began on the court itself.
 
For Nivetha, though, it was even more overwhelming: she collapsed into tears as Tamil Nadu got the better of Rajasthan by a heart-stopping 2-point margin.
 
 "Come on… You can't be crying now," coach Ram Prasad said, putting a comforting arm over her as they walked off the court.
 
The team's star player, Nivetha, simply smiled, perhaps thinking of the last two heartbreaks.
 
 "This team has lost five finals, including two last year," coach Ram Prasad conceded. "It has not been easy for any of us," he added.
 
Indeed, this final too seemed to be going that way. Tamil Nadu conceded a nine-point lead to Rajasthan by the end of the first quarter; they pared it down to five by half-time which is when the comeback began, with Nivetha at the forefront.
 
"At halftime, the coach pointed out that the defence was letting us down," she said. "So he asked us to pass the ball more and keep it moving rather than trying to score individually and turn over possession."
 
Ram Prasad knew exactly what needed to change simply because he has been coaching this team for some time now.
 
"A majority of these girls have been in this team for at least 3-4 years. They have played a lot of tournaments together, and won and lost together."
 
Nivetha, from Chennai, started playing basketball as it was one of the few sports offered in her school. A veteran of the team now, the shooting guard was one of the vocal voices in the circle at half time. 
 
"When we won and there was that silence after all those interviews, I realised that this is my last year with the U17 team. I'm in Class XII now," she said. "It is a great way to sign off of course, but it got me a bit emotional."
 
It was cinematic then, that she was the one who scored the winning basket with a minute on the clock, to give Tamil Nadu a two-point lead, that they would hold on to take gold.
 
Ram Prasad doesn't fear the turnover that will happen,  with a lot of his players soon graduating to the higher age group. "There are some first-timers, youngsters on this team too." Planning for the future he brought along two players for every position and one veteran.
 
Nivetha's protege is K Sathya, the Class X student who joined this team only four months back. Sathya's two sisters played basketball and the Coimbatore native took up the sport following their footsteps.
 
"It's my first Khelo India, and not just that, also just my second tournament with this team. So I have one silver and one gold. Good record!" she laughed. And what next? Exams. "I know! It sounds terrible, doesn't it? From gold to sitting back and studying... But what to do…" she giggled away.