Stand up Comedians Appurv Gupta and Jeeveshu Ahluwalia bring laughing riot at Pacific Dwarka Mall
The popularity of both Delhi based comedians was enough to grab the audience's attention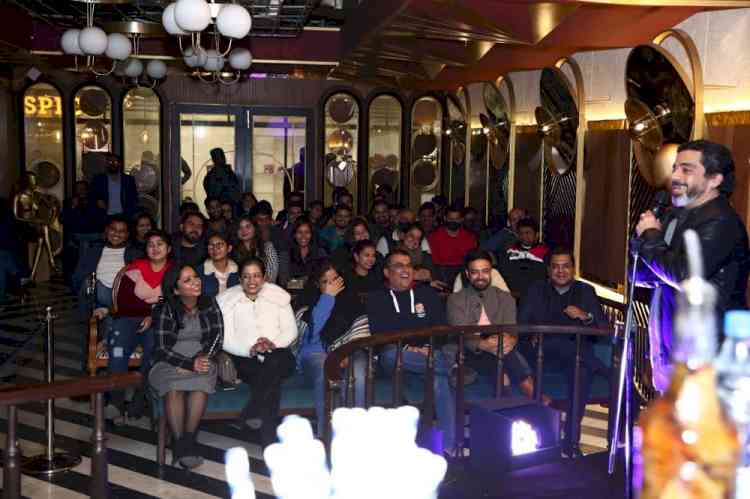 Standup comedian Appurv Gupta popularly known as Guptaji narrated some of his favourite stories, in his special 'Kaafi Wild Hai' to make it interesting and hilarious at Pacific D21 Mall, Dwarka. While Jeeveshu Ahluwalia known best for his thick desi accents, and observational comedy brought a laughing riot among his audience. The events organized by 'The Entertainment Factory' and powered by A3 charge had limited audience capacity of up to 50 people. The tickets sold out like hotcakes as soon as they were available on Bookmyshow, and Paytm Insider.
The premises for the standup special was fully sanitized and alternate seating was in place to follow the distancing guidelines. Appurv has been performing stand ups since a decade and is is known for his undemanding funny talks focussing on simpler sides of life. In the last few years, the comedian has written three solo shows, 'Appurview', 'RelationShip Or RelationShit' and 'Laugh with an Engineer 2.0', and has garnered over 10 million views on social media. Jiveshu has over 1500 shows to his credit. His stand-up videos and comedy sketches have been featured as viral videos on YouTube, garnering over 22 million views.He entertained and engaged with the audience around the theme of 'Uncommon Sense'.
The popularity of both Delhi based comedians was enough to grab the audience's attention and deliver them a humorous evening. Mr. Abhishek Bansal, Executive Director, Pacific Malls, elaborated on the popularity of such events and said, "We have been organizing these stand up comedy nights for our visitors. After the unlock, the frequency of such events reduced. Dwarka being a region that caters to such good number of population is the perfect hub for entertainment. We try to bring happiness and cheer among our customers by hosting such events frequently."