Sponsor the Meal Initiative at GMHS RC2 with Social Substance
Dr. Arun Bansal, Social Substance is convening the exercise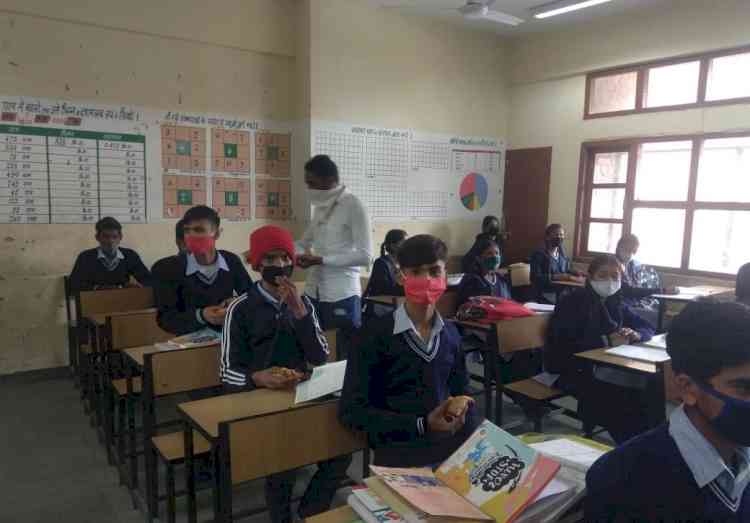 Chandigarh: School Education is going through a tougher phase right now owing to viral scare. Nationwide unlocking is going on and selected classes are being called as administrative measures. However, attendance is an issue as some students are not turning up that may hamper their preparation for examination and may hit overall results of education as well.
Understanding the above Government Model High School RC2, Dhanas in collaboration with Social Substance has started numerous drives to improve. Sessions on guidance and counseling are initiated for students who have started attending the classes regularly which are yielding better results now. In addition to the above focus is put on bringing more students of allowed classes to curb drop out ratio. To motivate those who were not attending 'Sponsor the meal' scheme is started at school i.e. students are given fresh and healthy meal at the school.
A social media group of donor is created by Social Substance where concerned teachers upload the menu and let the donors know about the cost. Donors from group can pick up any amount/meal to contribute. Speaking to Ms. Ravinder Kaur, Head Mistress of GMHS RC2 it is learnt that scheme has become so successful that more of the students are now attending school regularly and most importantly the moral is boosted too. She mentioned that Social Substance has been a continuous support in the process and together she sees a brighter side of education system. She applauded the efforts of her teachers who are not only contributing by preparing meals lovingly but putting some amount from preciously earned salary as well for the cause. The rapport between students and teachers has increased tremendously. Discipline has increased among the students.
Dr. Arun Bansal, Social Substance is convening the exercise and mentioned that society is great and one need to provide verified and established measures to tap the potential. Social Substance is doing exactly the same. It is a model that generates funds and even employment using the crowd sourcing techniques.