Spl seminar on topic "The Light: Applications in Communication Technology"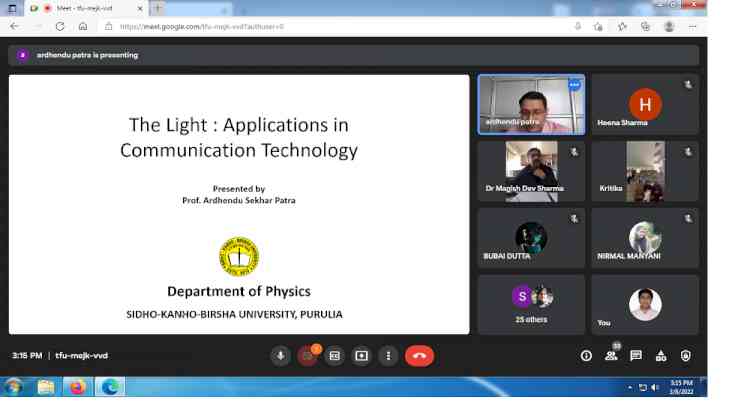 Chandigarh, March 9, 2022: The Department of Physics, Panjab University organized a  special seminar on the topic  "The Light: Applications in Communication Technology" today. The seminar was conducted in the department premises with the consent of Prof. Dr. R. K. Puri, Chairperson and under the charge of Prof. Dr. B. R. Behra, in B. M. Anand Auditorium, Panjab University Chandigarh through livestream on Google Meet.
Dr. Manish Dev Sharma hosted the event. The talk on the topic was delivered by Prof. Ardhendu Sekhar Patra, Professor, Department of Physics, Sidho-Kanho-Birsha University, West Bengal. He is appointed as Director, IQAC and Director, Science Centre for Interdisciplinary Studies and he is a former  Dean, Faculty Council of PG Studies in Sciences.
During the talk, Prof. Patra discussed the basics of light and explained that the term "Light" is not limited to only the visible spectrum but the whole electromagnetic spectrum. Following the theme, he explained the applications of light in the field of communication. This could be achieved using optical fibers. There are various types of fiber namely single index fiber, step-index multimode fiber, and graded-index multimode fiber. Prof. Patra discussed the dispersion in the fibers and explained how the transmission of light through the fiber cables can be utilized to reliably send data and information with high speed (~Gbps) and over long distances (700-3,000 km). Optical fibers are installed throughout the world for the purpose of network connectivity.
The talk was very informative and addressed many of the queries of the undergraduate and postgraduate students. Around 150 participants attended the meet via online and physical mode.