Special Baisakhi Festival Theme Portrait launched by Jathedar Akal Takth Gaini Harpreet Singh 
The portrait has been prepared by Advocate Harpreet Sandhu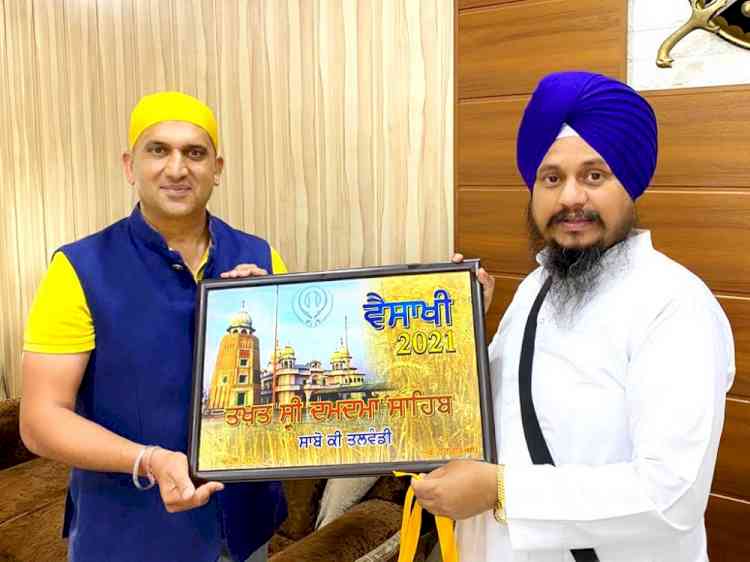 L-R:  Jathedar Sri Akal Takth Sahib Gaini Harpreet Singh launching the special Pictorial on Baisakhi Significance, along with Lawyer Harpreet Sandhu.
Ludhiana: A Special pictorial work prepared by High Court Lawyer, Author and Nature photographer Harpreet Sandhu to mark the significance of Baisakhi Day 2021, depicting the colorful images showing harvesting of rabe crop with highlighting the significance of Takth Sri Damdama Sahib, the pious place in Talwandi Sabo where Tenth Sikh Guru, Guru Gobind Singh prepared the full version of Sikh scriptures, i.e. Guru Granth Sahib. Hence on the eve of Baisakhi festival Jathedar Akal Takth and Damdama Sahib Gaini Harpreet Singh, today launched the special pictorial prepared by Lawyer Harpreet Sandhu during the Baisakhi festival at Gurdwara Damdama Sahib. 
The portrait dedicated to the upcoming 400th year of Guru Teg Bahadur Sahib was later distributed within the devotees present at the Baisakhi festival with aim to highlight the message of change in season as the festival being a multifaceted significance with large farming community of Punjab marking the day to be new year's time. 
Jathedar Akal Takth Gaini Harpreet Singh appreciated the pious and dedicated work of Harpreet Sandhu initiated by him in form of a pictorial image signifying the harvesting of rabe crop with a message for good fortune for farmers with loud and clear message thanking Almighty for the bountiful crop.