Spacious Jaamawar Minx (JM) designer wear store unveiled in Jalandhar
Heirloom Collection `Riyasat' too showcased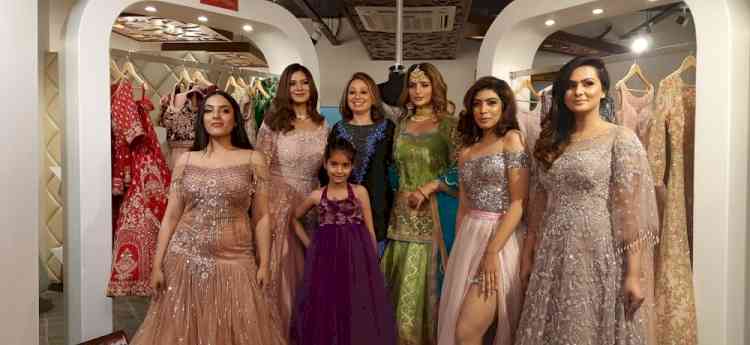 Designer Rupam Grewal( in black attire) founder of Jaamawar Minx fashion label, posing with models wearing her designer wear at a fashion event to announce the opening of the Jaamawar Minx outlet, in Jalandhar's model town.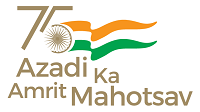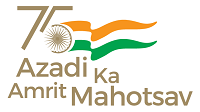 Chandigarh: With spring wedding season around the corner,  Punjab grown fashion label Jaamawar Minx(JM) founded by a famous fashion designer Rupam K. Grewal, unveiled a spacious & opulent store in Jalandhar's Model Town. The opening of the brand new store also saw the unveiling of a mesmerizing collection 'Riyasat'. The beautiful collection has 'dupattas' which have been made painstakingly with real gold, pearls, and real Swarovski. The USP of the 'dupattas' is that these have been so richly crafted, that they are heirloom material, to be passed on from one generation to another.
Rupam K Grewal who is mainly known for intricate bridal ensembles has experimented this wedding season to blend the vibrancy of the traditional 'phulkaris' with 'zardozi dabka work' to give a royal look to her ensembles.  Ace designer, Rupam Grewal who has worked with various types of embroidery for over 15 years said, "We had a lot of demand coming from Jalandhar and mainly NRIs' from Doaba region were showing interest, so we decided to set up an outlet in Jalandhar, which is the nerve centre of the Doaba belt. Keeping in mind the wedding season, we have come up with beautiful & ethereal attires for the wedding events like mehendi, reception etc. We have focused on cocktail gowns, lehengas, Punjabi Sharara and Gharrara suits with traditional zardozi dabka embroideries, brocade silks, ghagras etc."
Meanwhile, the breathtaking collections from both 'Riyasat' as well as the other designer wear created by Rupam were adorned by Aakanksha Sareen & Rehmat Rattan, Punjabi film actresses and models, during an event held to formally announce the opening of the store. A fashion event was also held to showcase the JM collections. The event was unique as it was presented by not professional models but by young girls pursuing professional courses, working,  studying in school - two girls one studying in 12th and the other a little girl studying in the 3rd standard also took part with aplomb in the event wearing JM collections.  All the girls are either pass outs of DPS , Badhani or are studying there. Even Aakanksha Sareen is an alumnus of DPS,Badhani. Apart from being a designer , Rupam also runs DPS, Badhani , near Pathankot.
 
It is to be mentioned here that Jaamawar Minx has been envisioned by Rupam K. Grewal to make available designer bridal and prêt collections, that promote Punjabi embroidery, traditional garments,  &  Indian artisans. Rupam is credited with giving the famous Patiala Salwar a richer & more contemporary look thereby making it a fashion statement. The JM Salwar is a signature dress from the stable of Jaamwar Minx.
Rupam added, "In the gift section we have conceived baby blanket sets for the brides who we dress up and who will became mothers in the future. This has been popular as a beautiful gift option and so we have introduced a new line JM's Baby Sets. The baby sets have an option of being monogrammed as desired by the customer."
JM outlet in Jalandhar has added beautiful clutches and potlis that go well with the designer dresses on display. Apart from the JM collections Banarsi Sarees and even the famous  Kanjiwaram Sarees have been showcased to give a complete one-stop-shop experience to not just Jalandhar but even residents of the Doaba region.
The flagship outlet of JM is at Pathankot, the label has a studio in Elante Mall, Chandigarh and a store also in Bangalore.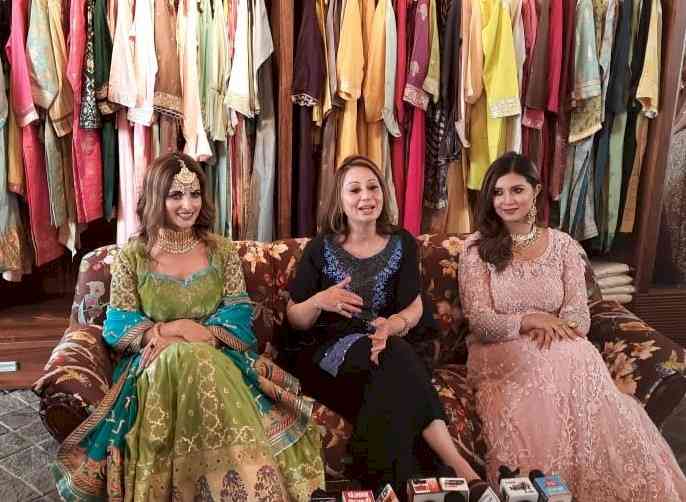 Designer Rupam Grewal( Centre) founder of Jaamawar Minx fashion label, addressing a press meet along with Punjabi models & actresses Rehmat Rattan (Left) and Aakanksha Sareen(Right)   to announce the opening of Jaamawar Minx outlet, in Jalandhar's model town.