SONY SAB TV: Raksha Bandhan quotes from Sony SAB artists
Raksha Bandhan is a day to celebrate the bond between brothers and sisters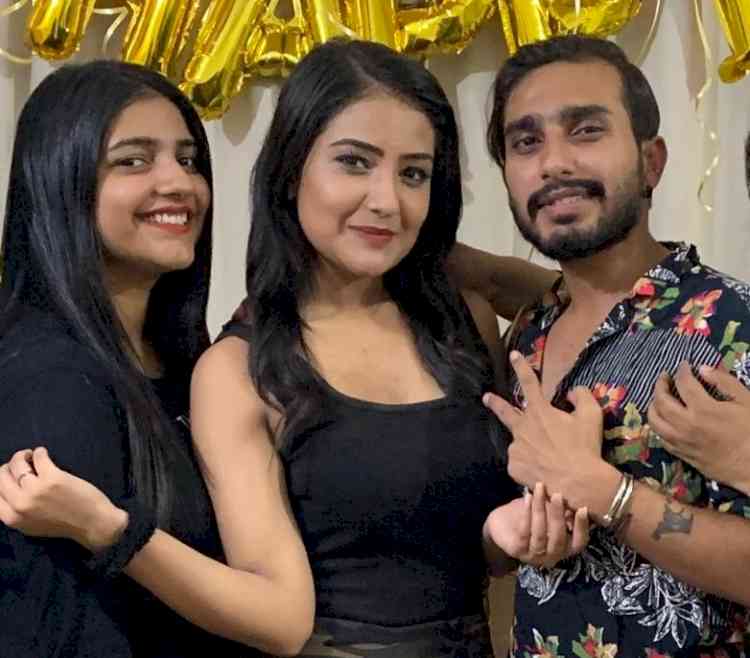 Akshita Mudgal with her brother and sister.
Chhavi Pandey (Tara in Sony SAB's Tera Kya Hoga Alia)
 
"We are three sisters and a brother in the family. Being the youngest one, I have always been the most pampered one. Raksha Bandhan reminds me of a very funny and sweet memory. Every year on Raksha Bandhan, my brother used to get a unique gift for me as compared to my sisters' gifts and because of this, my sisters would usually get into a fight. Now that I am working in Mumbai and my brother is settled in Kolkata, it gets difficult to meet him because of my shooting schedule. However, every year as a tradition, I send him a Rakhi and he gifts me exact Rs. 101 as good luck. This is what I ask from him every year, not a rupee less or more."
 
Talking about how her brother feels about her performance and role in Tera Kya Hoga Alia, Chhavi said, "When I told him that I will be playing Tara in Sony SAB's show Tera Kya Hoga Alia, he was a little shocked because it is, in a way, a negative character. He has never seen me essay an antagonist in a show. However, he supported me and has started watching Tera Kya Hoga Alia for me. It is heartwarming to receive so much love and support from your family."
 
Akshay Kelkar (Abhishek in Sony SAB's Bhakharwadi)
 
I share a very special bond with my sister where there is a lot of fighting as well as loads of love. Every Raksha Bandhan, we make a promise not to fight with each other that day (laughs). However, by the time the day ends, we end up fighting over some or the other thing. But that makes our bond special. I am currently staying in Mira Road, which is closer to the set but far from home in Thane. Due to the current situation, it looks like this year, we will have to celebrate Raksha Bandhan over a video call. Last year I got her a watch but it wasn't her size so she asked me to replace that with a new one which unfortunately wasn't her size as well. So, hopefully, I will be able to get her a watch this year, that fits her properly. 
 
Akshita Mudgal (Gayatri in Sony SAB's Bhakharwadi)
 
My brother has been with me and has supported me all my life. I am extremely fortunate to have a brother who is so caring and understanding. There are days when I don't feel like eating after coming back from the shoot but he makes sure I have Haldi doodh and also in some instances sweetly convinces me to eat food. During my days of struggle as well, my brother stood like a pillar for the entire family. My mother and I were living in Mumbai, my father's posting was somewhere else and my sister was in home town. He used to juggle between places, managing everything and making sure everyone was fine. He has been like a father to me all through my life. 
 
Raksha Bandhan is a day to celebrate the bond between brothers and sisters. So, this year I am planning to get something special for my brother and there will be special food preparation at home.