Sonu Sood inaugurates Pizza Hut's 500th store
The store is located in Moga's Main Bazar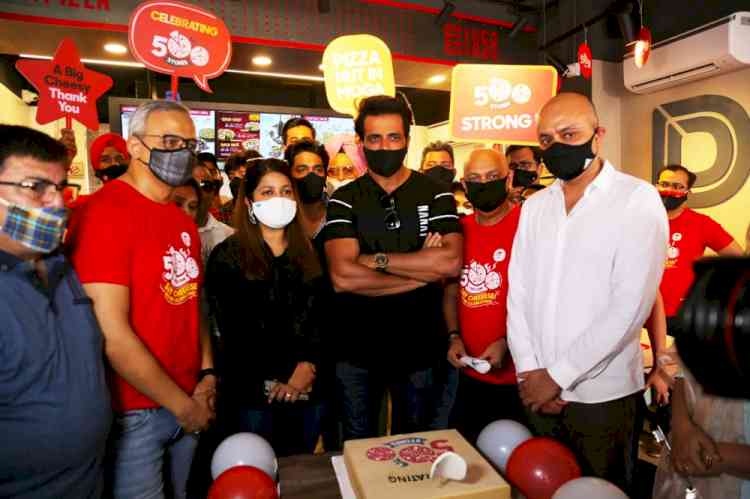 Moga: Pizza lovers in Moga can now rejoice as Pizza Hut, India's most loved and trusted pizza brand has opened its 500thstore in the city. Talented actor and philanthropist Sonu Sood inaugurated the new store, located on his ancestral property in Main Bazar
 
Pizza Hut is excited to bring its iconic global recipes along with signature local favourites to Moga. All mouth-watering menu items will be available to consumers 7 days a week, from 11am -11pm. To make it easy and safe for consumers to indulge in their favourite pizzas, contactless services would be provided across dine-in, delivery and takeaway channel by Pizza Hut.
 
To celebrate the launch, Pizza Hut will be offering a limited time discount of flat Rs. 150 on food delivery orders placed through the Pizza Hut mobile app and website. For Dine-in and Takeaway, one can indulge in a 3-course meal starting at Rs. 149 and get their favourite pizza, 2 pieces of Garlic Bread and a chilled Pepsi. Several other great value combos for solo, couple and group orders are also being offered by Pizza Hut on delivery, dine-in and takeaway.In order to express gratitude towards frontline medical fraternityfor their efforts, the brand is also offering 50% discount to them in Moga,till 25th of August '21.
 
Continuing its endeavor to bring positivity to the lives of children, the brand has tied up with multiple NGOs to treat over 500 underprivileged kids with tasty, safe and hygienic pan pizzas meals to celebrate the 500th store milestone in India.
 
Pizza Hut is one of the first international QSR chains to have entered Moga. Speaking on the occasion, Sonu Sood said "Pizza Hut has always been a personal favourite of mine as we share a common goal of spreading smiles. I am truly delighted and touched to inaugurate the new store in the loving memory of my father on whose land this store stands on and am grateful for his eternal love, guidance, and support.I'd also like to thank frontline medical staff for their selfless service to the nation and am glad to hear that Pizza Hut has offered them a special 50% discount as a token of appreciation. My heartiest congratulations to the entire Pizza Hut team for achieving the 500th store milestone in India and best wishes for their continued success in the road ahead."
 
Pizza Hut is home to the original signature pan pizza - a perfectly baked pizza crust that's crunchy on the outside, soft and fluffy on the inside, topped with herb infused flavourful sauce, delicious toppings and 100% mozzarella cheese. All of these together make your pizza-eating experience, most satisfying.The brand is committed to the Indian market and curates and offers pizzas customised to suit Indian tastes and sensibilities with its innovative variants like Tandoori Paneer, Veg Kebab Surprise, Chicken Tikka Supreme and many more. The company pioneered its stuffed crust pan pizzas in India and currently the range offers 3 scrumptious choices: Veg Kebab, Chicken Seekh Kebab, and Cheese Maxx. Like every other Pizza Hut pan pizza, these too are loaded with abundant toppings and cheese and baked to perfection to give pizza lovers the ultimate satisfaction. 
 
Ensuring 'Trust In Every Bite' has been one of the most important priorities for Pizza Hut and the brand follows all regulatory protocols and guidelines issued by the government, WHO and FSSAI for maximum food hygiene and safety for customers. Pizzas are baked at 240 degrees which eliminates all viruses and packed in disinfected, tamper-proof boxes. Fresh, sanitized vegetables and FSSAI-licensed ingredients are used in all food preparations.