SOCLLY: A decentralized social network for Web3 creators concludes first-ever lens community IRL meetup
Lens Community IRL Meetup 2022: first-ever IRL Meetup for Lens community concludes in Bangalore The event is co-hosted by BLIV.Club & Riva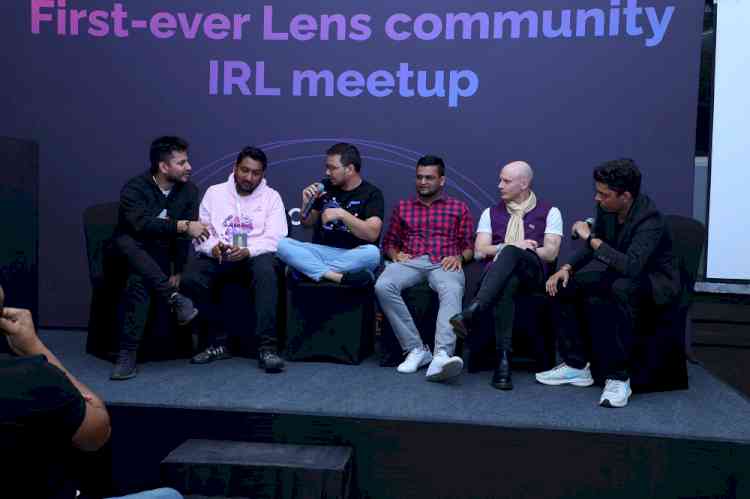 Bangalore/New Delhi, December 7, 2022: SOCLLY, a decentralized social network platform for Web3 creators hosted the first-ever lens community IRL meetup in partnership with BLIV.Club & Riva in Bangalore. The company which is a decentralized social network platform onboards Web 3 influencers, educators, and artists, made its testnet launch in the month of November. They have created a platform that allows Web3 creators to interact with their audience. 
 
This Lens Community IRL meetup a one-day event where Sandeep Nailwal, Co-founder of Polygon, Nader Dabit, Director of Developer Relations at Aave & LENS, Fabri Guespe, DevRel Engineer at Aave & LENS, Aniket Jindal, Co-founder Biconomy & Harsh Rajat, Co-founder Push Protocol were present as the chief guest and speaker at the event. The meetup was all about the gathering of the Lens community & to educate the community about SOCLLY and discussed what developers should do in the current market phase.
 
Prayag, Co-founder, SOCLLY says: "Coming together to celebrate the success of the Lens community is an amazing experience. I am so proud of the team at SOCLLY for bringing together this first-ever Lens community IRL meetup and creating a platform to foster meaningful connections. Here's to many more incredible meetups like this in the future!"
Sandeep Nailwal, Co-founder of Polygon says: The future of social networks is here with Web3 - a powerful, secure, and transparent platform that enables users to interact with each other in a revolutionary way. With their focus on security, privacy and decentralization, they are opening up new opportunities for us to interact with others around the world in a more secure and meaningful way.
 
 
Nader Dabit, Director of Developer Relations at Aave & LENS says: I'm really excited to attend the first-ever LENS community IRL meetup, organized by Team SOCLLY. Lens is a powerful protocol that enables anyone to own and control their digital identity, unlocking the potential to interact with the digital world in a secure, transparent and trustless way. I'm excited to see the potential of Web3 social networks and how they can revolutionize the way we collaborate and communicate.
 
The concept of SOCLLY was first established in 2021. The co-founders got in touch with the creators. Creators voiced their worries. It has become apparent that creators frequently receive spam and trolls in their direct messages, and the majority of users submitted fillers in the DMs, which increased noise. There was no way to select users based on the quality of their queries. SOCLLY 0.2v is the antidote to this situation and helps creators.