Singer Javed Ali sang for Swachh Bharat Abhiyan
This song has a related message from the Swachh Bharat Abhiyan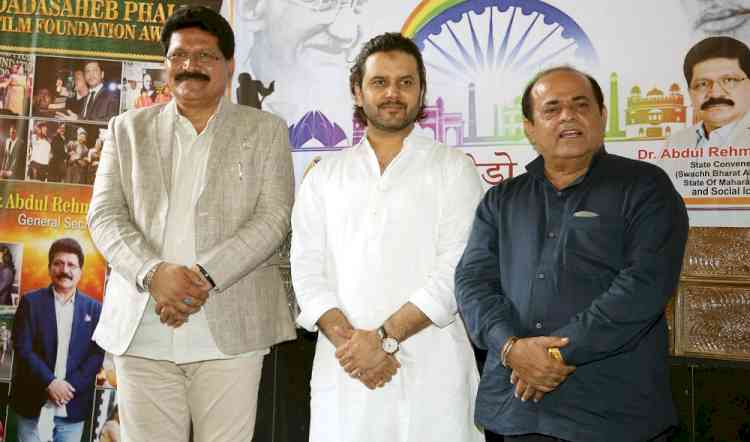 Dr Abdul Rehman Vanoo, Javed Ali and Ghani .
Dr. Abdul Rehman Vanoo, General Secretary of the Dadasaheb Phalke Film Foundation and the Convener of the state of Maharashtra for Swachh Bharat Abhiyan, recorded an awareness song in the voice of famous singer Javed Ali at Krishna Studios, Mumbai. Dr. Abdul Rehman Vanoo has written the song himself which is composed by Ali Gani Saheb . The lyrics of this lovely message filled song are very strong - ab karo tum phaisala gandagi ko door karna hai, swachhata me jeevan hai aur gandagi se marana hai, kah gaye peer fakeer dr abdul rehman ka kahna hai..
Speaking to the media here, Dr. Abdul Rehman Vanoo said that today a song of Swachh Bharat Abhiyan has been recorded, which I have tried to write well so that it reaches the common people. This song has a related message from the Swachh Bharat Abhiyan. The song is sung by Javed Ali . Ali Gani Saheb has given the music of this song. Video of this will also be made soon. Then it will be released soon. My goal in making this song is to spread awareness about cleanliness. Today, there is a need to avoid dirt and cleanliness, only then we will be able to win from diseases like corona. Often we see that people keep listening to songs on trains, buses, rickshaws, cars and everywhere in their headphones, so we have prepared this song so that its message will reach the world quickly. I am the Convener of Swachh Bharat Abhiyan of Maharashtra State, with this campaign we have added about five lakh people working in the Bollywood industry, so that this campaign will be made successful very soon. Prime Minister Narendra Modi has started this Swachh Bharat Abhiyan and we all want that we move forward in the matter of cleanliness. Dr. Abdul Rehman Vanoo further stressed the importance of this song and said that in this song it is said in easy words that cleanliness is everything. There is life in cleanliness while dirt can also kill you. Centuries ago, elders have also said that we should be clean and tidy. I felt that people have forgotten this thing today, so made a plan to present it as a song. You can stay healthy with cleanliness. In this song, every Indian has the message of becoming responsible citizens in daily life. When we become responsible, we do good work. We need to be responsible for the country.
Let us tell you that even during the lock down, Dr. Abdul Rehman Vanoo has made many big efforts for the well being of the technicians of the film industry. The lockout in film Industry has proved to be very difficult for the daily wage earners especially technicians. During this time, Dr. Vanoo was ahead in sending daily necessities to the needy. Dr. Vanoo also assisted the Mumbai Police and provided them with the necessary items during the lockdown.