Shops already having permission can now do counter sale from 7 am to 6 pm: DC Ludhiana
Four new positive cases reported in district in last 24 hours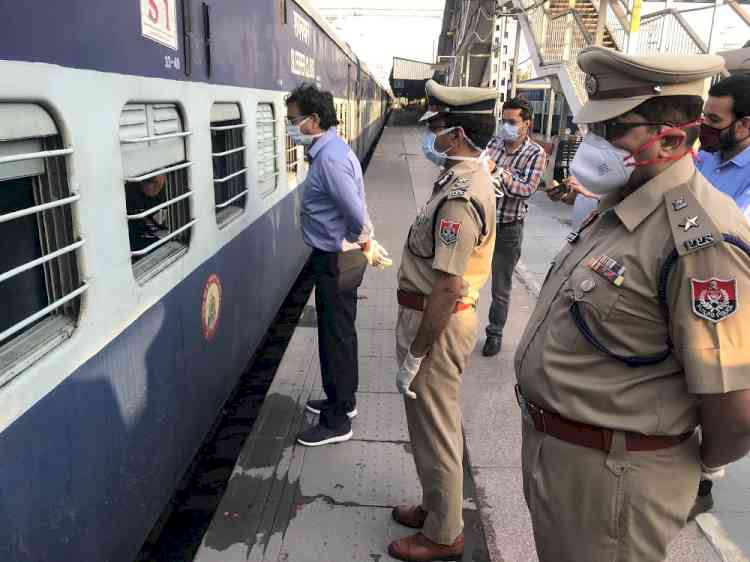 Ludhiana: Deputy Commissioner Mr Pradeep Kumar Agrawal informed that four new positive cases have been reported in the district in last 24 hours. He said that out of these 4 positive cases, one person is a resident of Delhi, while the remaining three are from village Lalton Kalan, Bhai Himmat Singh Nagar and Ambedkar Nagar areas of the district.
    He informed that till date, 4,485 samples have been sent for testing from district Ludhiana, out of which report of 4,133 samples have been received. He informed that 143 samples related to district Ludhiana have been tested positive and 42 are from other districts. He said that 13 persons have been declared cured and six deaths have been reported.
    The Deputy Commissioner further stated that the Punjab government has now increased the timing of already exempted shops from 7 am to 6 pm for counter sale. He stated that this relaxation would be applicable for only those shops that have been allowed to open by the District Administration as per the earlier orders. 
    He further stated that till date, the District Administration has sent 39 trains to different states, including seven trains that departed for different states today. He said that eight trains would depart tomorrow. He said that as more than 7 lakh people from other states have applied to go to their home states from Ludhiana, the District Administration would be increasing the frequency of trains in coming days so that maximum number of people can be sent to their home states. He said that the Punjab government is also in touch with other states to allow travel by road.
    He urged the migrants to not fall prey to people claiming to take them to other states by road in lieu of hefty sums of money. He said that several states have sealed their borders and if they get caught, they would not only be sent back, but action would also be taken against them. He informed that at present, only travel by rail is allowed, and that too only through the District Administration.
    He informed that the Punjab government is providing facility of travel, food, water and pickup service from pickup points totally free of cost and people should not fall prey to any persons who promise to send them to their home states in lieu of money. He said that if any person demands money from them, they should bring it to the notice of the District Administration, or should inform the officials present in Guru Nanak Stadium, here.
    Mr Agrawal said that every employee of District Administration Ludhiana is working 24X7 to check the spread of COVID 19 in the state, and the situation is completely under control. He urged the residents to stay indoors and follow all directions of the Punjab government if they want to fight COVID 19 pandemic.
    Later, the Deputy Commissioner, accompanied by Commissioner of Police Mr Rakesh Kumar Agrawal, SDM Payal Mr Sagar Setia, SDM Ludhiana (East) Mr Amarjit Singh Bains, SDM Khanna Mr Sandeep Singh, besides others flagged off a train departing for Pratapgarh (Uttar Pradesh). He also interacted with the passengers, who told the officials that they are happy with the arrangements made by the Punjab government and District Administration.