Shooting of Bhojpuri film 'Shola Shabnam-2' will start in Basti city of Uttar Pradesh in August
The last song of director Shivaji R Narayan's Bhojpuri film 'Shola Shabnam-2' was recorded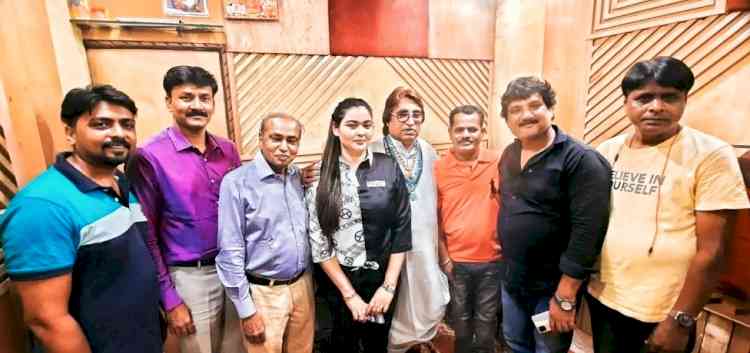 Rohit Gupta, Santosh Kokat, Shivaji R Narayan, Muskan, Dilip Sen, D C Madana, Rakesh Sharma, S R Bharti at recording of film, 'Shola Shabnam.


The last song 'Phoolwa Si Mahek Jingia Tohar...' of Bhojpuri film 'Shola Shabnam-2'  was recorded in the voice of D C Madana (Teri Aakhya Ka Yo Kajal Fame) & Khushbu Jain at Dilip Sen's Studio, Andheri (West), Mumbai. It's produced under the banner of Shivputra Films. The music of the film is by Dilip Sen. The film is directed by Shivji R Narayan. Lyricist S R Bharti & Yash Kumar, Recordist Rakesh Sharma, Singer D C Madana, Singer Khushbu Jain, Composer Dilip Sen, Actress Muskan, Director Shivji R Narayan, Assistant Commissioner of Labour, Mumbai (Maharashtra) Shri Santosh Kokat & Editor Rohit Gupta etc. were present.
On this occasion, director Shivaji R Narayan said, "It is a social film, which is about the life of a singer. The shooting of the film will start from August 6 in Basti district of Uttar Pradesh in which actor Manoj R Pandey, actress Srishti Sharma,villain Girish Sharma, Jaswant Kumar, Anjana Singh and many local artists will participate. The shooting of the film will be completed in a month.