Shooting for 'Sasse Ni Sasse Tu Khushiyan ch Vasse' held in Mohali
'Sasse Ni Sasse Tu Khushiyan ch Vasse' on Z-Punjabi from April 25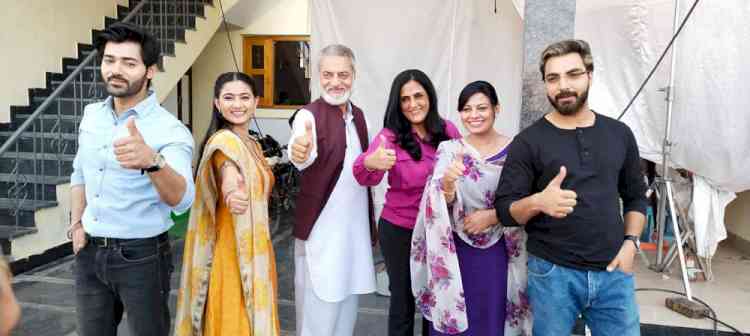 Mohali, April 23, 2022: 'Sasse Ni Sasse Tu Khushiyan ch Vasse', is a show with a completely new and fresh concept. It tells the story of Ramneek, a young girl who persuades her widowed mother-in-law, Amrita, to re-marry. 'Sasse Ni Sasse' will go on air from 25th April at 7 pm on Zee Punjabi and is being produced by Eternal Flame Productions. Shooting for the show began in Mohali today.
 
While most shows build their story and TRPs on the tiffs and ego clashes between saas-bahu, this show explores the deep bond and love that a girl can share with her mother-in-law. It also carries the deep message about how women can help one another move ahead in life in a men's world.
 
Eternal Flame Productions is helmed by Damini Kanwal Shetty and her husband Raaj Shetty, who have been in the creative field for the past 20 years.
 
Damini herself is an actor, screenwriter and now a producer of TV and web shows in Hindi and various regional languages. She also has the distinction of producing the first and only Zee Punjabi serial to have completed 500 episodes called Khasma Nu Khani. This is a milestone in Punjabi television which is in its nascent stages.
 
Being a Punjabi herself, Damini is well versed with Punjabi culture, language and audience sensibilities which help her create content that not only entertains but also showcases the Punjabi cultural and literary sensibilities.
This makes her the perfect fit for creating superhit Punjabi shows like Khasma Nu Khani, Vilayti Bhabhi and now Sasse Ni Sasse Tu Khushiyan Ch Vasse time and time again.