SHO Arshpreet Kaur discharged from DMCH
Secretary of DMCH Managing Society Prem Kumar Gupta congratulated SHO in fighting her battle against covid-19 infection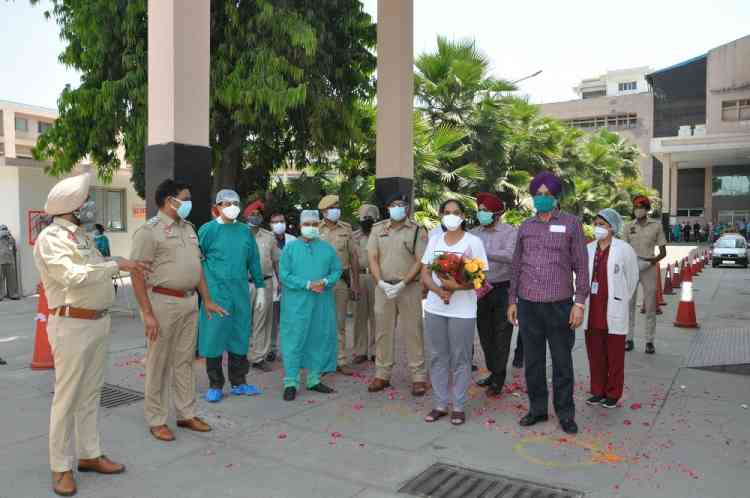 Ludhiana: SHO of Basti Jodhewal, Ludhiana- Arshpreet Kaur, admitted in DMCH due to COVID 19 infection got discharged today after 14 days of hospitalization in DMCH. On her discharge from the hospital, senior police officials of Ludhiana Police Commissionerate  were present on the occasion and facilitated the officer for getting back to normal well-being.
Secretary of DMCH Managing Society Prem Kumar Gupta congratulated SHO Arhspreet Kaur in fighting her battle against COVID 19 infection. He lauded the effective teamwork of doctors, nursing and paramedical staff of DMCH in successfully treating the patient.  
Gupta specially emphasized the contribution of Departments of Emergency Medicine, Microbiology and Critical Care Medicine in treating patients infected with COVID 19 infection  
Professor of Medicine-Dr Rajesh Mahajan said that the patient Arshpreet Kaur had tested negative on two occasions and got successfully discharged in healthy condition today.
Dean Academics Dr Rajoo Singh Chhina said that DMCH, under the guidance of Secretary Prem Kumar Gupta is fully equipped to tackle the present situation of COVID 19 pandemic and all faculty and staff members are taking all the due precautions in creating awareness and leaving no stone unturned n winning war against COVID-19.