Shishuraksha Kamineni lifts trophy of Doctors Cricket League, Season 7
Dr Chandu adjudged Man of the Match and Best Bowler;  Dr Siddharth, Best Batsman and Man of the Series shared jointly by Dr Chandu and Dr Anand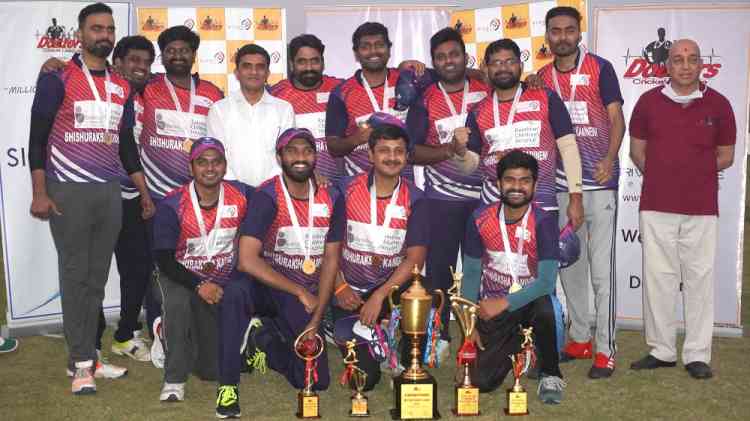 The winning team Shishu Raksha Kamineni.
Hyderabad: Shishuraksha Kamineni wins the final at Doctors Cricket League, Season 7 and walks away with the trophy.
 
They defeated Medicover the two times as well as defending champions
 
Dr. Neeraj Lal, Chief Guest  Dr. Mohan Guptha, MD of Aarogya Hospitals graced the inaugural of the final match and gave away the trophies.
 
In a fiercely fought 20-20 game held at MMR Grounds near Shamshabad, both the teams Medicover Hospital and Shishuraksha Kamineni gave tough fight to each other. In the end  Shishuraksha Kamineni defeated Medicover. They made 123  runs just loosing 2 wickets.
 
Dr. Shashidhar winning team captain said that they could win because of all round performance by all the players. We could send back our opponent teams'  top batsmen cheaply for 29 for four wickets in just eight overs. In reply we made quick scores without loosing many wickets.
 
Dr Krishna Kiran captain of the loosing team, Medicover, the two time champions, said, the best team won. The winning team exhibited all round performance.
 
Earlier Dr Krishna Kiran, Captain of Medicover Hospital , boys in Yellow Jersey won the toss elected to bat first
 
Dr. Vikas Reddy and Dr. Parth Patel of the team Medicover started off well but lost few quick wickets. The middle order batsmen played a steady inning and slowly but steadily added runs to the score board. Their finally tally towards the end they put up a challenge of 122 runs for the loss of six wickets.  Dr Anand contributed much needed 49 runs to the team and remained at the crease by the time their inning ended.
 
In reply opening batsmen Dr. Siddharth and Dr. Karthik of  Shishuraksha Kamineni began their side with blazing shots pushing ball to boundaries and sixers and every possible unfielded sides. By the half time and end of 10 ten overs they put up 57 runs for the loss of just one wicket. The team took up challenge with exuberance right from the beginning. They ended their tour with 123 runs on the score board for the loss of 2 wickets in 17.5 overs.
 
Dr Chandu of the wining team was adjudged as the Man of the Match as well as the Best Bowler. Chandu knocked 31 out of 21 balls and remained not out. He bowled four overs, gave 33 runs and took one wicket. He picked up 3 catches. As a bowler he took 23 wickets in 9 matches he played.
 
Dr Siddhu of the winning team bagged the best batsman award. He accumulated 326 runs and scored two centuries.
Man of the series was shared jointly by Dr Anand of Medicover and Dr Chandu of Shishuraksha Kamineni.
 
"Doctors Cricket League", 7th Season began in February. 16 teams participated in the league.  250 doctors from hospitals such as Apollo, Yashoda, KIMS, Pranam, Deccan, Omni, Medicover Hospital and Shishuraksha Kamineni. The participating doctors comprise of specialists, super specialists, post graduates from wide variety of disciplines. They are all above 28 years and consultants working with various hospitals. On the whole 45 matches were played before reaching the semi-finals held last week informed Ms Nanda Pandey, Director and Nikhil Sampath, Co-Founder of Mighty Sports.
 
Doctors life is a busy life and highly stress-prone. They have little spare time for their leisure activities. Sports are no exception. Only busy people can take time out.  Giving importance to fitness, Keeping themselves fit plays a spork like cricket in very inspiring for the general public.
 
This cricket league is being held for the past six years gives them another meeting ground where they have a chance to catch up and have fun," said Nanda Pandey, Director of Mighty Sports.
 
The league matches were played on every Sunday in the last couple of months. The Doctors Cricket League Season 7 is organized by Mighty Sports.  The first match of this season was played between Yashoda Hospital & Rainbow Children's Hospitals in February this year. Due to lockdown the league matches got disturbed and had to be rescheduled.
 
Mighty Sports has been organising the Doctors Cricket League every year for the Doctors of Hyderabad since 2013 and completed six seasons so far. Mighty Sports also organized the first-ever National Doctors Cricket League in the year 2017. It is a fun cricket league.
 
It also made for an offbeat gathering for the doctors to interact with each other and for their families as well. The umpires were selected among senior doctors.
 
 
Score:
Medicover: 122 / 8 in 20 overs
Dr Anand 49 off 50 balls and scored 4 boundaries
 
Dr Kannan,  40 off 31, scored one boundary and two sixes
 
Dr. Balakrishna, took 3 wickets in 4 overs and gave 17 runs
 
Shishuraksha Kamineni: 123/2 in 17.5 overs
Dr Siddharth, 20 in 12 balls, scored 3 boundaries
 
Dr. Karthik, 38 off 48
Dr. Hari, 17 off 27 balls
Dr. Chandu, 31 off 20 balls
 
The list of players
 
Medicover Hospitals
 
Dr Vikas Reddy, Dr Krishna Kiran, Dr. Anil Reddy, Dr. Kannadiga, Dr. Parth Patel, Dr. Suman Banik, Dr. Anand Agroya, Dr. Rahul Agarwal, Dr. Ghanshyam, Dr. Arshad, Dr Kaushik, Dr. Advaith and Dr. Vijay
 
Shishuraksha Kamineni
 
Dr. Shashidhar, Dr. Siddharth, Dr. Praneel, Dr. Shashi, Dr. Karthik, Dr. Dilip, Dr. Phanindra, Dr. Chandra Shekhar, Dr. Hari Kumar, Dr. Suresh, Dr. Kiran Reddy, Dr. Prem, Dr. Mahesh, Dr. Bala and Dr. Aditya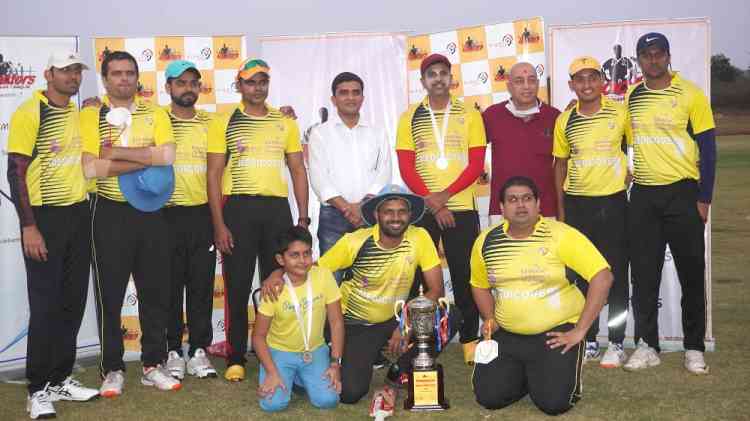 The loosing team Medicover.