Shiromani Akali Dal's Industries and Trade Wing submits memorandum to Governor of Punjab 
Memo submitted through DC Ludhiana regarding problems faced by industry and trade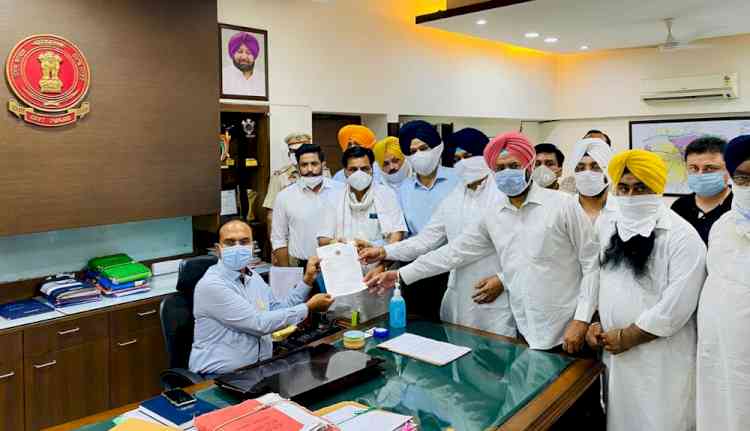 Ludhiana: On directions of Sukhbir Singh Badal, President, Shiromani Akali Dal and N. K. Sharma President Industry and Trade Wing (Shiromani Akali Dal); Gurmeet Singh Kular (Sr. Vice President) along with Chaudhry Madan Lal Bagga (Sr. Vice President) and Ranjit Singh Dhillon President S.A.D. Ludhiana-Urban; on Friday, submitted a memorandum to V P Singh Badnore, Governor, Punjab through Deputy Commissioner Ludhiana and put forward the under noted demands:
 
•    Financial Package for Industry & Trade
A financial package for the small and medium scale industries as well as traders as had been done by other State governments including Gujarat, Karnataka, Kerala, Tamil Nadu and Uttar Pradesh. This package could include a clause whereby the State government should take on the responsibility of paying salaries of industrial workers during the lockdown period.
•    Waiver off PSPCL Fixed Charges till 31.03.2021
Industrial and Trade Wing of Shromani Akali Dal demanded that due to prevailing situation of COVID-19, the Fixed Charges on electricity bills should be waived off at least till 31.03.2021
•    Electricity @ 5 Rs
The state government has promised to provide electricity to the industry at Rs.5 per unit, but still industrialist belonging to the MSME sectors are getting electricity bills at 10 to 15 rupees per unit; the state government should immediately look into the matter and provide the electricity at 5 Rs per unit to the industry.
•    Refund of pending VAT with government
Around 80 crores of industries money are stuck with the government in form of pending VAT refunds, this money is not a grant or subsidy, this is industry's own money which should be released with immediate effect to facilitate the industry in this period of crunch.
•    Increased VAT on Fuel
Recently, the state government has risen the VAT on Petrol and Diesel, giving the major hike in fuel prices in Punjab. So, government should rollback the increased VAT immediately and provide relief to the trade & industry.
•    Waiver off Property Tax
Government is asking the landlords to not to collect rents from tenants in this period of crisis, on the other hand, government is realizing notifications to deposit the property tax, why this discrepancy? government should waive off the property tax completely, at least for the financial year 2020-21.
•    Arrange Free Trains for Labour Return
As soon as the industry got the permissions to operate, the government started free trains to UP/ Bihar and other labour prone states, industrialist could only see the plight of labourers. Now as the Industrial and Trade are fully operational, the government of Punjab should arrange trains to get back the labourers from their states to Punjab, with immediate effect.