Sheezan Mohammed as Aarya in India's First Hindi Rural Entertainment Channel, Azaad's new show Pavitraa Bharose Ka Safar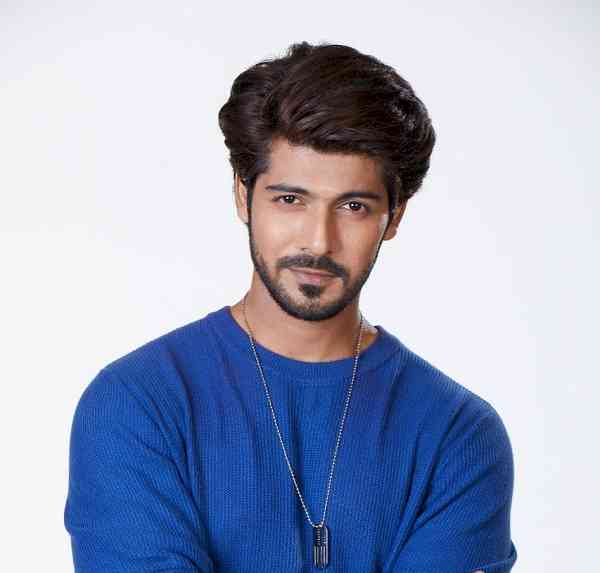 Sheezan Mohammed as Aarya in new show Pavitraa Bharose Ka Safar.
Sheezan Mohammed is a popular face on Indian television and was earlier seen in many shows. He is now all set to play Aarya in India's First Hindi Rural Entertainment Channel, Azaad's new show  PAVITRAA Bharose Ka Safar. He speaks with us about the show that airs Monday to Saturday at 9 30 PM and gets candid about his life...
How and when exactly did you realize you had the passion for acting? 
I always knew that I'm not mean for any 10 hour kind of daily job in my life. I knew that I was an entertainer even before I started my journey as an actor. It was after my first audition for Jodha Akbar & getting selected, that I started enjoying the entire process of shooting from getting the script, preparing for the character. I love that part. I don't know what I would've done in my life besides rather than acting.
When you decided to be an actor, did your family support you?
Actually, I come from the background of actors. My sister is also an actor and when I decided to join this field, they supported me a lot. They told me if you want to be good, then you have to give 100% to it. It's only their support till date that has got me here and I'm grateful for it.
Out of so many roles that you have performed as an actor, which one is your favourite and why?
I must say that I was very lucky that I got different characters to play in my career. I started with Jodha Akbar which was a historical and then did regular dramas.  It's tough but 2 characters are my favorite so far-  Raghav in Ek thi Rani Ek tha Ravan &  Arjun Priya from Tara. I had told the makers that they could not get a better Arjun Priya than me and it wasn't about my confidence but my conviction in my ability to play that role well at that time.
 
How did you land this show?
I strongly believe what is written for you comes to you. I really believe that. This show Pavitraa was written for me. I got a call for this show in February and they told me that this character is Meerut based. When I heard Meerut, I had a smile on my face because my grandparents also belong to Meerut. We had many challenges making it like the lockdown & I was concerned if I will lose the show.I believe this show has written for me and I consider it a blessing and feel I'm lucky to get this opportunity.
What is the show all about?
It's about a girl named Pavitraa who hails from a small town & how she tackles all difficulties in her life with her strength & grows to be an inspiration to others. She has to deal with her Parents, society & their small town mentality but still manages to fight against all odds and be a success in her life.
Share more about your character Aarya?
I can say a lot about my character Arya. He is determined & whatever he wishes in life, he gets it. He is from a rich family & is a spoilt brat who is a politician. He has some group of friends who always pamper him. And, he was brought up in such a way that no one could raise their voice against him. He is  challenged for the first time in his life by Pavitraa who persists and gives him challenges at every turn.  Pavitraa challenged him a lot & he really likes that about her & falls in love with her.
 
How do you select television shows?
Honestly, an actor doesnt have the liberty to decide his roles atleast in TV industry.  When we are unemployed, we are just waiting for the call to be given some work.
I really listen to what I'm told about the character & if the character is challenging & I am intrigued then I feel like I should do it but here too,  luck plays a large part in bagging a role. I want to play a character which challenges like Aarya. The first time that I heard about Aarya, I was certain that this is something I really want to do & it will challenge me as an actor.
 
Describe your most challenging role to date.?
The role which got me very nervous was Raghav's because it was the first time that I was playing a mentally unstable boy. Although I imagined the character, I had to do my homework. I just can't do justice to a character without doing homework for the same. Playing Raghav was most adventurous in my career & I am really glad that I did that character. It changed me a lot as an actor. It taught me lot of discipline & how to present the character. I had to lose 12 kgs of weight for it & then gain 9 kg after the character became mentally stable after a span of six months.So, it was challenging not only on-screen but off-screen as well.
How do you prepare in advance for a role?
I really believe in homework.  If I can't do justice to the role then what is the point of doing it. So, to prepare for the role, I really go into the skin of it to feel & sound like that character. If I talk about this role as Aarya in Pavitraa, I really had to brush up on my Meerut accent. I told my mother that I want to learn the authentic Meerut accent.  She called my cousin & I heard their conversation & learnt the  mannerisms and diction. This is how I prepare & it works for me.
How difficult it is to establish yourself in the film industry?
It teaches one a lot. I think talent is required in every field. One is easily judged in the industry. So it is very difficult to stay focused and be committed to your craft. Do your best. Have patience. I don't go with the flow. One has to give and take respect by letting your work do the talking. And, I think that is the mantra in any sector. I don't think I would have reached where I am without staying committed.
Have you progressed in your acting career as you have expected?
Well, I started as a background actor in Jodha Akbar. It was not a big role & I hardly had some lines. After that in 8 years, I have done 4 shows as a lead actor. But, I believe this is not my final destination & I have a long way to go and I  still have lot to learn .God has kept me alive, given me fame, money but I am still as hungry as I was on my first day and will keep working hard to go further. So let's just hope for the best.
How important is developing a personal style when it comes to acting?
If you talk about a character which is played by some great actors, then it is tough to replicate it. Imagine Shah Rukh Khan playing Irfan Khan's role in Billoo Barber. It is very important to have your own style and never copy someone or get influenced from anyone. Always inspire but never get influenced.
What do you think is most important in your field?
There are many things which are important but from the perspective of my field in acting, I think being truthful to your art is very important
 You need to have a very innocent approach  to your character. You need to have the child inside you & having patience is very important. There will be highs & lows but you need to have confidence. It is also important to be good & have real people around you that keeps you rooted.
What type of role do you see yourself playing in the future?
In the future, I am going to continue finding a character which challenges me as an actor, which brings out something new in me and which I haven't explored as yet. 
Where do you see your career in five years?
I can't see that ahead but yes, I definitely see myself working in movies & web-series on leading OTT platforms for sure.
What is your strength as an actor?
My strength is that I am a Director's actor. So I listen, observe things & do my homework as that becomes my strength. I always give my 100% because I am always in character and that truly is my Strength.
What was the last thing you watched on the OTT platform?
It was 2 days ago, I watched Money Heist.