Shaurya Mehta's debut single mukammal na hui chahat by T Series
Shaurya always pursued music diligently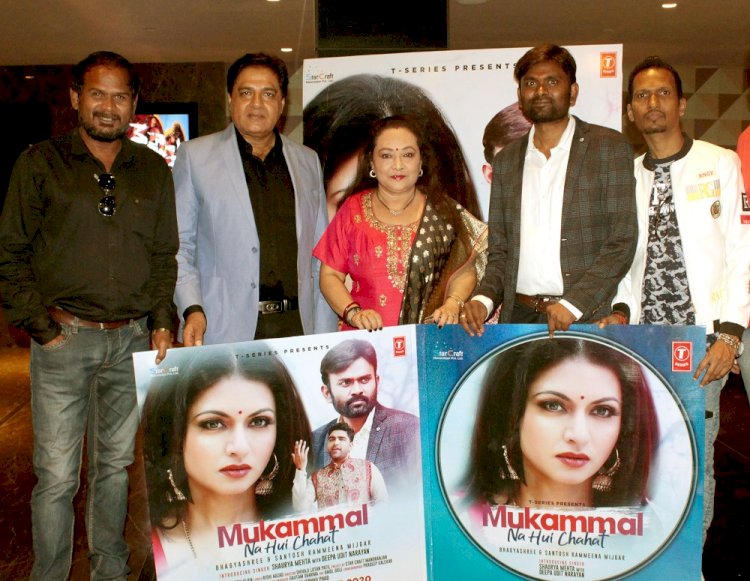 Shivaji Lotan Patil, Ashok Mehta, Deepa Narayan, Santosh Mijgar and DH Hrmony.


They say if you really are passionate about something, you go follow it and that's been a journey for this young, smashing personality Shaurya Mehta. The two times Masters' degree holder from Warwick Business School , UK , says that despite everything that he has achieved in his life, it's still the little joys from singing that make him feel most fulfilled as that's where his heart lies. 
Talking about the song, Shaurya says, "This heartwarming number is very close to my heart and will be one of the most cherished experiences of my life. It's a love ballad that will see Santosh Mijgar and actress Bhagyashree feature in the video. It's great that a wonderful actress like Bhagyashree graced us with her presence and involvement in the video."
Shaurya, despite handling his Infrastructure, Real Estate and Finance business & all the degrees that he holds, Shaurya always pursued music diligently. "I had been trained under Mr. Suresh Wadkarji and Ravi Tripathi Ji for nearly 6 years. I even participated in all my college and inter college fests and enjoyed the whole experience. I remember during these college fests while representing Jai Hind college, I also got appreciation and blessings from music maestros Anu Malik ji and Kailash Kher ji. Singing was always a part of me and it was time I focussed on it," says Shaurya .