Shastri Indo- Canadian Lecture Series at UIFT, Panjab University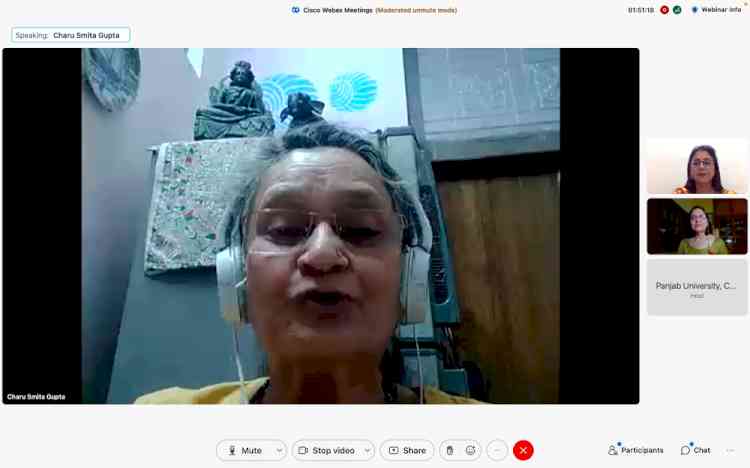 Chandigarh, March 15, 2022: University Institute of Fashion Technology & Vocational Development (UIFT&VD) Panjab University Chandigarh hosted the second online lecture of Shastri Indo Canadian Lecture Series "Taking traditions forward: Preserving and conserving culture and heritage in the South Asian Canadian Diaspora".
 
Prof. Sudhir Kumar, Dean Research while inaugurating emphasised the need of connecting the art and the craftsman, of abolishing a hierarchy that discriminates the craftsman with limited means. The fashion being materialised by the local tailors, craftsman, regional artisans should be acknowledged and appreciated as art.
 
Prof. Charu Smita Gupta, the keynote speaker structured her lecture around two case studies, of the traditions in Punjab and Kashmir. In the transportation of traditions across boundaries, few changes emerge but the essence of the materials is not lost. She traced the history of Indians settling in Canada in 19th century. The case study of Pashmina shawl unveiling the nuances of Persian craft, its origin, making and commercialised marketing opened up new facts of how the traditions of clothing evolve. A cost of Pashmina shawl ranges from 50,000 to 5,00,000. The difficult processing of the fabric makes it expensive and unique. Pashmina has boosted the trade across global boundaries. The embroidery styles of Dorukha and Ekrukha were also talked about and their quality compromise picturing a bad image of the nation. On similar lines is Punjab's Phulkari, which is intricate embroidery motifs on khadi, and has a cultural symbolism in Punjabi marriages. These creations have found a new space in Canada and has begun to become a part of the contemporary traditions there. The new patterns weaved onto them is a sign of their changing patterns to be accepted by the Canadian masses, the base material also has been changed. Similarly the commercialization of not just traditional clothing, but paintings has also taken place, as in the case of Gond paintings created by Venkat Shyam, which have found new applause through exhibitions in the West.
 
Dr Anu H. Gupta, Director of the Shastri, Indo Canadian Lecture Series, Chairperson, UIFT & VD, highlighted that the lecture series is focusing on the global interactions and exchanges beyond the boundaries and their  influence on  heritage and traditions. She introduced the speakers of the second lecture.
 
Dr. Rita Kant, Senior Faculty at UIFT & VD, welcomed the event's participants, guests, and resource person.
 
Around 120 participants participated in the event.