Sharat MaxiVision partners with Breath India
Sets up oxygen bank in Warangal in association with Rotary Club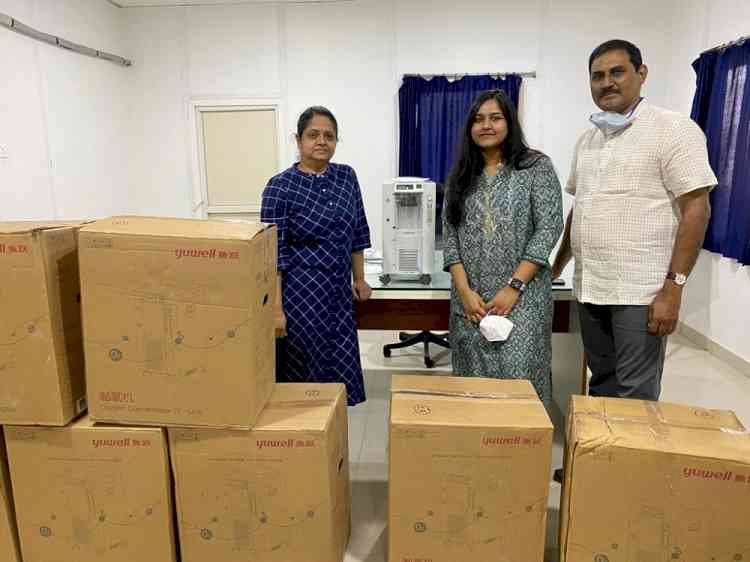 Dr.Sharat Babu – MD Sharat MaxiVision launching Oxygen bank in Warangal.
Warangal / Hyderabad:  Sharat Maxi Vision Eye Hospitals, a group of Maxivision Eye hospitals has partnered with Breath India to set up Oxygen Bank in Warangal. As all of us know that Maxi Vision offers Super Specialty Eye care treatment  a eye care chain group that is the first choice of local & international patients and important celebrities alike.
After seeing the need of Oxygen for Covid-19 patients Dr.Sharat Babu Chilukuri, Managing Director of Sharat Maxivision Eye Hospitals,  and his daughter Dr Meghana Chilukuri decided to partner with Breathe India to provide Oxygen concentrators to the needy. Sharat Maxivision, Warangal have set up an Oxygen Bank now in its hospital premises in association with Rotary club of Warangal partnering with Breath India. This oxygen bank help serve the oxygen needs of COVID19 patients in Warangal.
Speaking on the Occasion Dr.Sharat Babu Chilukuri – Managing Director of Sharat Maxivision said that COVID19 pandemic has turned out to be virulent in India.Every one in the country has a responsibility to offer their service to the society in this critical time. When we approached the Rotary Club of Hanamkonda and Warangal central with the idea to set up Oxygen Bank, the members welcomed it . Later the same idea has been shared to all family members and friends who generously contributed for the project.
Dr. Sharat Babu, Past Rotary district governor, Chairman of the project is a major donor in the project he is the one who co-ordinated with Breathe India and established Oxygen concentrator bank under the aegis of Rotary club of Hanamkonda at Sharat Maxivision Eye Hospital, Hanamkonda, Warangal. 
Oxygen Concentrators will be distributed to all needy at nominal cost. After being used patients will returned to us. On receipt we will sanitize them and distributed to next patient who in line to receive it. The idea is to make 100 oxygen concentrators in Warangal and replicate the same project in Khammam and Karimnagar soon. Sharat Maxivision Eye Hospital  has come forward to distribute, sanitize and track the machines. Members of Rotary club of Hanamkonda and Warangal too generously contributed for the maintenance of the machines.