Shanta Kumar urges PM to come with new law to control population explosion
Says, one crore new youths becoming eligible every year to get fresh employment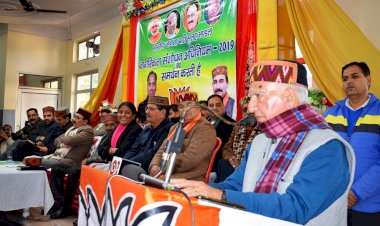 file photo.
Dharamshala: Senior Bharatiya Janata Party leader and former Chief Minister Shanta Kumar has targeted Congress leader Priyanka Gandhi. He said that Congress leader Priyanka Gandhi has asked Prime Minister Narendra Modi whether unemployment is a coincidence or an experiment. Shanta responded to it by saying that unemployment is neither a coincidence nor an experiment. Unemployment is a population explosion. The central government is providing employment. But, due to the increasing population, one crore new youths are becoming eligible every year to get fresh employment.
He said that the Prime Minister, in his speech on August 15, used the term population explosion for the country's growing population. The growing population has now reached a dangerous turn. The central government is making all possible efforts to remove poverty and unemployment. But every year one crore 60 lakh population is increasing in the country. For this reason, poverty and unemployment are also increasing. "The government's response is making economic progress, but due to increasing population, poverty and economic disparity is increasing even more. According to the Global Hunger Index there are 17 crore people in India who are on the verge of hunger," added Shanta.
He further said that unemployment has reached at such a stage here that MA, BA pass candidates are applying for the post of peon.
Shanta Kumar said, "To avoid this population explosion, the country will have to enact a law for population control at the earliest. Now the resolution of the country should be 'Hum Do, Hamare Do' or Ab Sabke bhi do."