Shaheed Kartar Singh Sarabha Marg (Ludhiana-Pakhowal Road) to be totally revamped: MLA Ashok Parashar Pappi
Pays tributes to Shaheed Kartar Singh Sarabha by visiting his ancestral home in village Sarabha today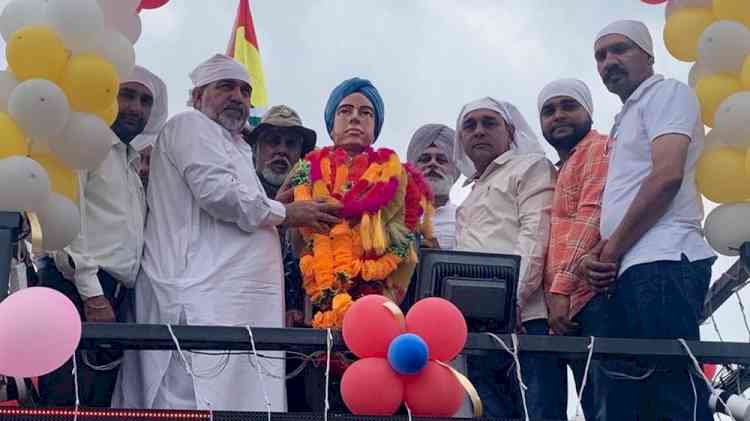 Sarabha (Ludhiana), May 24, 2022: On the birth anniversary of great martyr Shaheed Kartar Singh Sarabha and on behalf of the Punjab government, Ludhiana Central MLA Ashok Prashar Pappi today paid tributes to great martyr by visiting his ancestral home in village Sarabha, near here today. He was also accompanied by senior AAP leader and educationist Dr KNS Kang.
The MLA not only visited the ancestral home of Shaheed Kartar Singh Sarabha in village Sarabha, but also garlanded the statue of the great martyr of our freedom struggle.
While speaking to media persons on the occasion, he said that a bus stand at Mullanpur Dakha has already been named after the iconic martyr Shaheed Kartar Singh Sarabha by Punjab government, besides Bhagwant Mann-led Punjab Government would soon send a proposal to Union Government for naming Halwara International Airport after Shaheed Kartar Singh Sarabha as a tribute to legendary revolutionary of the country. He said that it would be a real tribute to youngest martyr of the country who attained martyrdom at the age of 19 years.
He said that as a mark of respect, Punjab government organises a state level function on the death anniversary of Shaheed Kartar Singh Sarabha at village Sarabha every year.
MLA Pappi said that the Punjab government would try to fulfill the footsteps of the greatest martyr of the country and would ever remain indebted to the martyrs for their supreme sacrifice. The sacrifice made by the martyr Kartar Singh Sarabha would ever act as a beacon to inspire the youth to serve the nation.
He said that the state government is committed for the development of the ancestral village of legendary hero of country who got martyrdom at such a young age.