Session on Skin Care in Summers- Tips and Tricks to avoid early skin ageing
Women forum of LMA organised a session on 'Skin Care in Summers- Tips & Tricks to avoid early skin ageing at Ludhiana.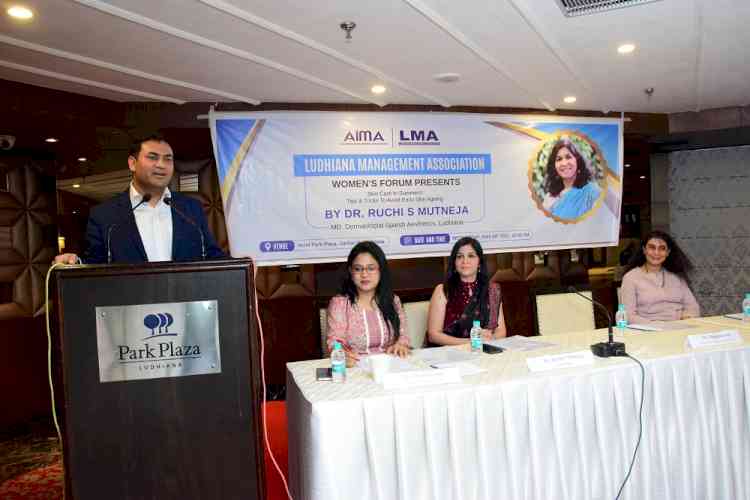 Ludhiana, May 20, 2022: Women forum of LMA organised a session on 'Skin Care in Summers- Tips & Tricks to avoid early skin ageing in Hotel Park Plaza. 
The resource person was renowned dermatologist Dr. Ruchi S Mutneja, Sparsh Aesthetics Ludhiana, who in the 60 minute session emphasised on the skin care precautions to be taken care by every age group. The chairperson Shivani Gupta in her welcome address thanked her for addressing the members of women's forum of LMA. The session was attended by women members of LMA.
Dr. Ruchi shared that everyone should be hydrated especially in summers, should drink atleast 3 litres water a day to keep your skin and body hydrated. She further explains to use some kitchen ingredients like Cucumber, Lime & Mint to make detox drink for healthy hydrated skin.
Dr. Ruchi explained about the use of Moisturisers & sunscreen is very important for everyone even if someone has oily skin; to create the balance between sebum & oil production and every one must use a moisturiser according to their skin type. She further explained the advantages of using Sunscreen which is the only thing that can slow down the process of early skin ageing & also protects you from harmful UV rays and everyone should reapply the sunscreen after every 2-3 hours.  She further explained to consume antioxidants in their diet to keep your skin younger looking also to add a healthy balanced diet like Vitamin A, Vitamin C etc. She also encouraged the audience to use anti-ageing products like retinoid, retinols, night creams, niacinamide in their skin care regime.
Dr. Ruchi further explained about anti-ageing treatments like Botox, derma fillers, treatments for hyperpigmentation, acne etc. 
It was a fruitful session for one and all that concluded with a vote of thanks by Harpreet K. Kang, Sr. Vice President of LMA and Shobhan Soi, General Secretary of LMA.