Session on integrating MSMEs into global value chain 
Event held at Ludhiana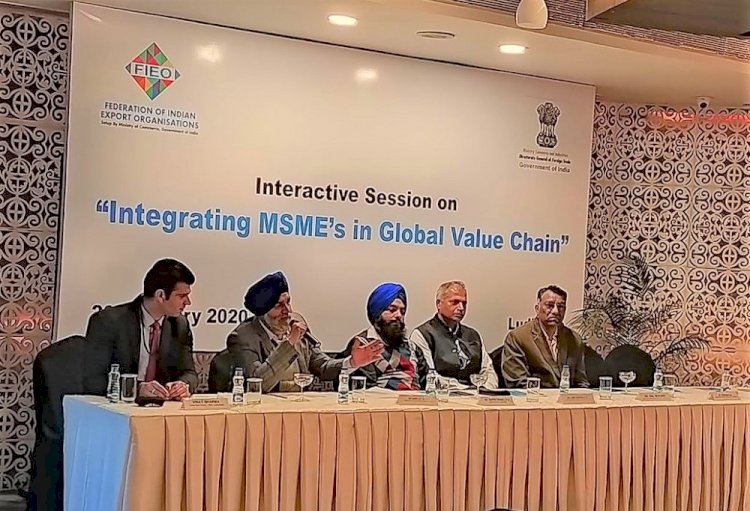 Ludhiana: FIEO Punjab Chapter along with the Office of Directorate General of Foreign Trade (DGFT) Ludhiana jointly organised an Interactive Session on Integrating MSME's in Global Value Chain at Ludhiana. The session was conducted by prominent International Trade expert Mr. Amit Budhiraja (CEO, International Trade Academy, New Delhi),Mr Budhiraja is  having over two decades of experience in international trade and logistics. His expertise ranges from export market diversification, SCM strategy, Logistics , Transaction cost management and country entry strategy for the International markets. He is one of the  leading names in the field of Global Operations, Logistics, Freight and Transport Strategy, Green SCM, Global Sourcing, Outsourcing, cross border  e commerce logistics, off-shoring, Supply Chain Management, Customs and GST Consultant , Supply Chain Security, Digital marketing etc.
While interacting with the participating delegates Mr Amit Budhiraja said that, "The MSME's are key drivers of innovation, economic growth and new employment generation. This is the reason why this segment receives through consideration of the policy makers across the world.   With the rise of the Global Value Chain (GVC) concept, it is believed that the integration of MSME's of developing countries into the Global Production and Global Marketing Networks are the opportunities for such countries economic growth, competitiveness and better access to global markets . There are various factors that decides or lead to the integration in Global Chain systems such as Quality, Timely delivery, price competitiveness, innovativeness, manufacturing flexibility, service and dependability.  Innovation and innovative thinking is the way to success in today's globally connected scenario. And to be Innovative it is important to use  available resources both materialistic and manpower bases very smartly and efficiently. MSME's being the engines of economic growth need to think and go beyond the borders to succeed".
Mr. Navtej Singh, Deputy Director, DGFT Ludhiana while sharing his views said that, "Foreign Trade is gaining importance everywhere, it has now become a national priority for Government of India, as it pushes economic development/growth.  With globalization, the whole world has become one market, so becoming a major player in trade is not only desirable, but is utmost necessary for a developing country like India. Government is now fully committed to take all necessary steps to double our percentage share of overseas trade within the next five to six years".
Mr. Kundan Lal, Assistant Director, MSME Development Institute, Ludhiana,  Mr Bal Mukand, Branch Head, ECGC Ltd along with Mr Sarvjit Singh, Convener , FIEO Punjab State Committee were the other experts who joined session and share their views. More than 50 Senior representatives from prominent business houses from the region were present during the session.