Services of final year students of nursing and medical courses may be considered
To meet shortage of human resources during pandemic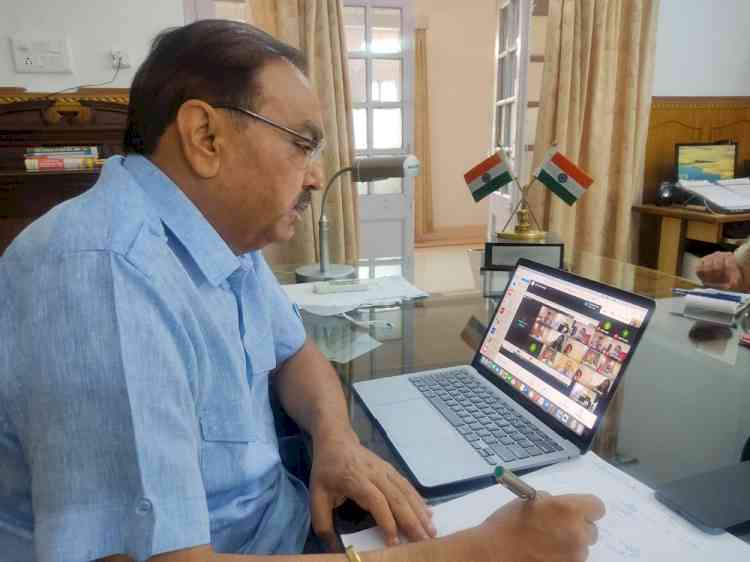 Commissioner Patiala Division Mr. Chander Gaind reviews the COVID-19 situation in Ludhiana by holding a virtual meeting with district administration Ludhiana.
Commissioner Suggests Ludhiana Administration
Divisional Commissioner Chander Gaind emphasizes on increasing vaccination in Ludhiana District
Patiala: Mr. Chander Gaind,  Commissioner, Patiala Division said that the students of the final year of Nursing and Medical courses could be voluntarily assisted to meet the impending shortage of manpower during the COVID-19 pandemic.
       Mr. Chander Gaind while interacting virtually with Ludhiana Commissioner of Police, Mr Rakesh Agarwal, Deputy Commissioner Mr Virinder Kumar Sharma and Civil Surgeon Dr.  Kiran Gill and others  to review COVID situation, suggested to the district administration that the services of the medical background employees in the other government services should also be availed as per their wish.
        While reviewing Ludhiana district today in a series of online meetings being held by Divisional Commissioner Mr. Chaner Gaind for COVID arrangements and vaccination progress in the districts falling under Patiala division, he expressed satisfaction over COVID and oxygen management in district Ludhiana. He also emphasized on expediting the COVID vaccination in the district in wake of the huge population of the district.
       He lauded the challenging work being done by the district administration for oxygen supply, sampling, care of COVID positive patients, cremation of COVID deceased and said that we should also make special arrangements for disposal of medical waste  too.
       Briefing about the enforcement part, Commissioner of Police Rakesh Agarwal said that strict restrictions were being enforced in the district and around 500 challans were being issued daily by the police to the people without masks besides registering about 20 cases of violations. Apart from this, 60 check posts are operational 24 hours a day and teams of health department are also deployed at 28 check posts for RT-PCR tests. Mr. Agarwal said that police personnel have been deployed in 6 important hospitals and 8 oxygen plants in Ludhiana.
    Deputy Commissioner Mr. Varinder Kumar Sharma said that out of a population of more than 35 lakh in the district, 5.48 lakh people have been vaccinated against COVID.  So far a total of 10,16,667 samples have been collected, out of which 60,135 positive cases have come to light and 1453 deaths have been reported.  The mortality rate in the district is 2.41 percent and at present there are 10,316 active cases, out of which 7447 have been advised to home isolation.
       Civil Surgeon Dr.  Kiran Gill said that there are 74 private hospitals in the district while 1525 level-2 beds are available in the district, out of which 1188 are occupied and 448 out of 565 in level-3 facility. She said that the target for daily sampling in the district is 10,000 and the district has 15 containment zones at present.
      Amit Bambi, Deputy Director and Nodal Officer, Oxygen Supply, said that there are 8 oxygen plants in the district, out of which two are liquid medical oxygen suppliers while six are bottling. District has a daily supply of about 3000 cylinders.  Swati Tiwana, Joint Commissioner, Municipal Corporation, Ludhiana, said that there were 23 crematoriums in Ludhiana, out of which 7 crematoriums were reserved for COVID dead bodies. Out of which 2 are electric/gas based. Mr Chander Gaind said that instead of wood, gas or electric rites should be given priority.
        The online meeting was also attended by SSP Khanna and Jagraon, Additional Deputy Commissioner, SDMs and other officials.  It may be recalled that during the online meeting started by Mr. Gaind from Patiala district, he has reviewed Sangrur and Fatehgarh Sahib districts so far.