Seniors of English Deptt,PU interact with freshers online 
It was an ice breaking session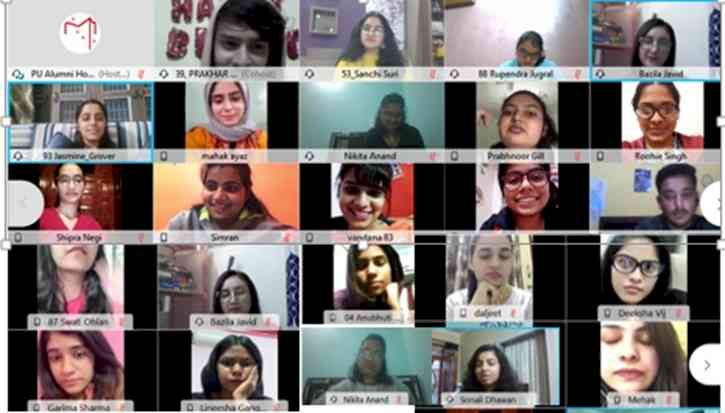 Chandigarh: The Department of English and Cultural Studies has become the first department in Panjab University to organize an online "Ice Breaking Session"  under the guidance of Prof. Deepti Gupta, Chairperson. This event was an effort by the students of MA English Final Year to welcome the new batch.
 
Prakhar Sinha, Class Representative, MA Final Year welcomed everyone and introduced his classmates who were serving as the speakers and mentors, to their juniors.

The new students introduced themselves with their respective career aspirations and academic backgrounds. They were high on energy and posed several questions about the department and its academics. Senior students enthusiastically resolved their queries and briefed them about various highlights of the department. COVID-19 had put students through challenging times but the Ice Breaker and a hearty conversation cheered everyone up. Marking pattern, Hostel admission procedure, Optional subject choice related questions were the most frequent ones. Many of them were anxious about the new syllabus introduced in 2019, but final year students reassured them with the promise of thorough guidance. The pandemic didn't allow the senior students to meet and greet the new batch, but technology allowed them to connect which left everyone ecstatic. Senior students spoke about the kinds of challenges they faced when preparing for exams and provided juniors with study strategy and tips to score well. Inspiring examples of the class toppers were given to motivate juniors for meritorious academic performance.

The boarding students spoke about plenty of student accommodations available for students who don't qualify for a hostel. Senior students discussed the major attractions of Punjab University like Annual Fests, Departmental events, Campus life and the liberal hostel life. New students were reassured about the University's institutional support, gender inclusive space, innumerous platforms for talent and an equal environment for all. Regular initiatives taken by the senior students to bond with junior students were also discussed in detail. Seniors concluded by saying that all students should support each other.

The new students felt that the interactive session had been immensely helpful to them. They expressed their gratitude to the senior students for the warm welcome. The session ended with everyone hoping to meet soon.