Seminar under Punjab government scheme 'ghar ghar rozgaar yojna'
Jasvir from ADC office guided students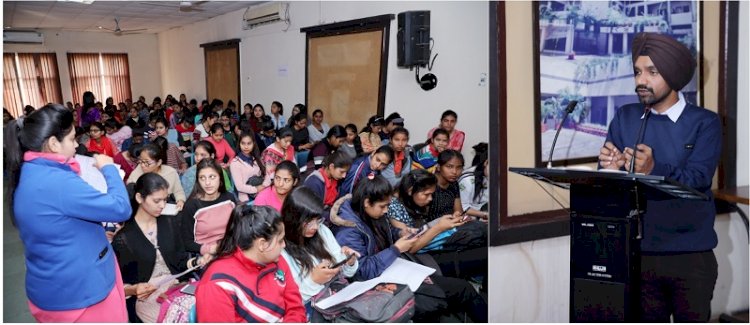 Jalandhar: A seminar was organized under Punjab Government Scheme 'Ghar Ghar Rozgar Yojna' by placement cell of PCM S.D. College for women, Jalandhar. 
In this seminar Mr. Jasvir from ADC office guided students to participate in the job fair at various places and also motivated them to register online with Job fair. He told about various schemes of government for preparation of competitive exams and said that they can also avail loan of Rs. 25 lacs. Students of graduate and post graduate classes who got 60% and more than 60% marks can participate in this job fair wherein the annual package of students selected by various companies can range from 3 lac to 23 lacs annually. 
Around 252 students from different streams of final year participated in the seminar and filled out the registration forms for job fair. 
Principal Dr. (Mrs.) Kiran Arora wished them luck for this fair which is to be held on 17th and 18th March at LPU.