Seminar on women entrepreneurs experiences, challenges and opportunities during Covid and beyond held
Organized by Hyderabad thinkers forum Social Cause at HITEX Exhibition Center, as part of International Women's Day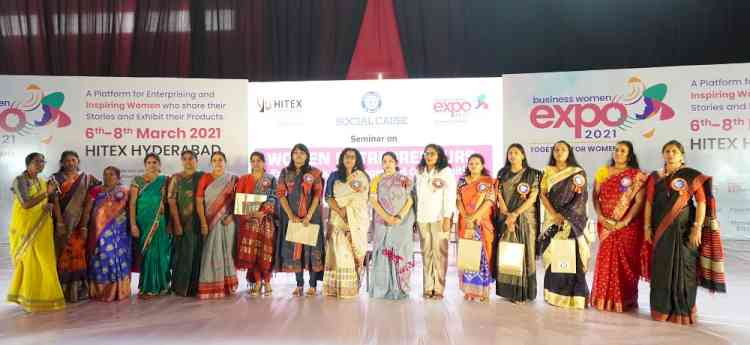 Hyderabad: Stating that Covid-19 was a big challenge, where people are mostly affected by unwarranted information from WhatsApp universities, Dr Padma Veerapaneni, Chairman RiSE Foundation and Founding Director of KIMS, asserted that "we as Indian's conquered this menace, our confidence level have multiplied though till several countries are facing serious of problems".
 
She was presiding over a seminar on "Women Entrepreneurs: Experiences, Challenges and Opportunities during Covid-19 and Beyond", organized by Hyderabad thinkers forum Social Cause at HITEX Exhibition Center, as part of international women's day.
 
Held as part of the India's biggest Business Women Expo, 300 women from different walks of life from the city and outside the city attended the Seminar. 
 
Dr Padma recalled that the virus spread when even doctors were also not aware of its nature and having a clue how to treat it. But now, she said that India has not only invented two successful vaccines for its people, but even supplied them to several other countries.
 
She said that Covid-era has brought several new opportunities through digital transformation and e-commerce, patients started getting treatment from their homes through digital forums and need to visit hospitals only at emergencies, she added. "During this pandemic period, he started learning every day", she said.
 
SeggamVenkata Rani, Chairperson, JayashankarBhupalapally Municipality, participating as guest of honour said that during this pandemic problems of rural people are entirely different from urban people. She said that this has provided an opportunity for them to face challenges with courage and  cooperation.
 
Stating that teaching and education are more women-friendly careers, followed by medicine, DrSangeethaVarma, Founder and Principal of Richmond Schools, said that budget schools are worst affected during this pandemic period. Deploring that they are at the receiving end of criticisms from both parents and administrators, she said they could hardly get any `sympathy'.
 
Recalling that `no fees' became a normal slap budget schools faced during this period, she said that a large number of teachers, supportive suppliers for schools, including school buses, lost their livelihood. Play Schools, which are not part of Indian tradition, but are being imported into the country as a flourishing business proposal, she said are the worst victims during this period. This is adding to the growing unemployment problem. 
 
DrVarma deplored that `education' itself failing to find its place as either a `service' or a `business' model. She suggested that it is high time to recognize the key role that budget schools are playing in the country providing education to more than half of students, by empowering them with some sustainability models.
 
Pandemic made mobiles phones a classroom. Now offline classes have begun, but the teachers are finding that there is a huge learning gap as kids attention span due to the last one of year of studies from home has reduced. 
 
Teachers who were unable to cope up with the technology lost jobs.  They are working today as delivery jobs, selling jobs.  Today they have fallen down. So much of knowledge is wasted.  The teachers who are supposed to be respected and treated equal to god are begging on the road. 
 
Suma Rao, CEO, Peoplecra, said that becoming a women entrepreneur itself is a big challenge, and faces problems at every stage, starting from getting licenses. Recalling the great uncertainty that Covid pandemic posed, she said that it is a big lesson to everyone to realize that unless you didn't think differently nobody talked about you.
 
She said that the crisis exposed a lot of learning and unlearning processes. "Opportunities are many as long as you are willing to change", she added.
 
D Neeharika Reddy, Director, IAS Brains Academy; VijayaSpandanaSathiya, Country Head, She Jobs; entrepreneurs DrManasaMadasu, DivyaJyothi, GurramKavitha and TriptyAgarwal also spoke.