Seminar on pollution and control measures organised by Soch 
A seminar on pollution and its control measures was conducted at the Consultancy Hall of Guru Nanak Dev Engineering College, Ludhiana.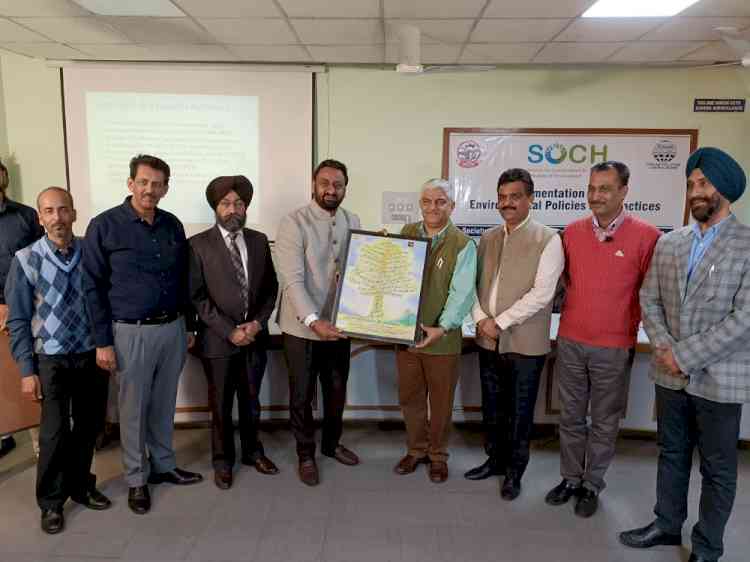 Ludhiana, November 23, 2022: A seminar on pollution and its control measures was conducted at the Consultancy Hall of Guru Nanak Dev Engineering College, Ludhiana.  This seminar was organized by 'Soch', an organization working on environment, in which representatives of Punjab Pollution Control Board, Municipal Corporation, Industry, Punjabi University Patiala and Guru Nanak Dev Engineering College also participated.
Speaking on this occasion, organisation's president Balwinder Singh Lakhovali and general secretary Dr.  Brijmohan Bharadwaj told about the efforts being made by the organization to protect the environment and make people aware about it.  Under which today's event has been organized.
Patron Saint Baba Gurmeet Singh, district coordinator Amanjit Kaur said that the organization organized a bicycle rally with the support of Ludhiana Paddles Club in the past.  It was the first cycle rally dedicated to the environment and the participants were told about the importance of trees and fauna and the history of the tree at Gurdwara Sri Falahi Sahib.  Apart from this, a fair is also being organized on November 25.
Meanwhile, industrialist Upkar Singh and others said that industries are contributing at all levels to save the environment and the rules of Punjab Pollution Control Board and NGT are being followed.  Industries are also doing many works in public interest through CSR fund.
Er.  Sahajapal Singh Principal GNE College said that they are continuously working on the issue of environment.  
Punjab Pollution Control Board Chairman Adarsh Paul Vig and Member Secretary Er.  Karunesh Garg said that it is very important to follow the laws related to the protection of the environment.  We are not against any industry if the rules are followed.  Similarly, farmers have also supported them against the problem of stubble burning.  People's cooperation is also essential in action against pollution.  We should reuse things in our homes.
Meanwhile, representatives of Guru Nanak Dev Engineering College, Apex Chamber of Commerce and Industry, Chamber of Industrial and Commercial Undertaking, Ludhiana Electroplaters Association, Federation of Industrial and Commercial Organizations, Fasteners Manufacturers Association of India, Federation of Punjab Small Industries Association, United Cycles  & Parts Manufacturers Association, Municipal Corporation Ludhiana, Punjabi University Patiala also presented their views.
Besides others, Er.  Gulshan Roy PPCB Ludhiana, Dr.  Manish Kapoor Punjabi University Patiala, Er.  Gurbakshish Singh Gill PPCB Ludhiana, Faculty of GNE College, entire team of Sant Baba Gurmeet Singh, Amarjit Singh, Vikas Sharma, Rahul Kumar from Soch team were also present.