Seminar on life, teaching and services of Mahatma Gandhi 
Ehsaas Adabi Society organised event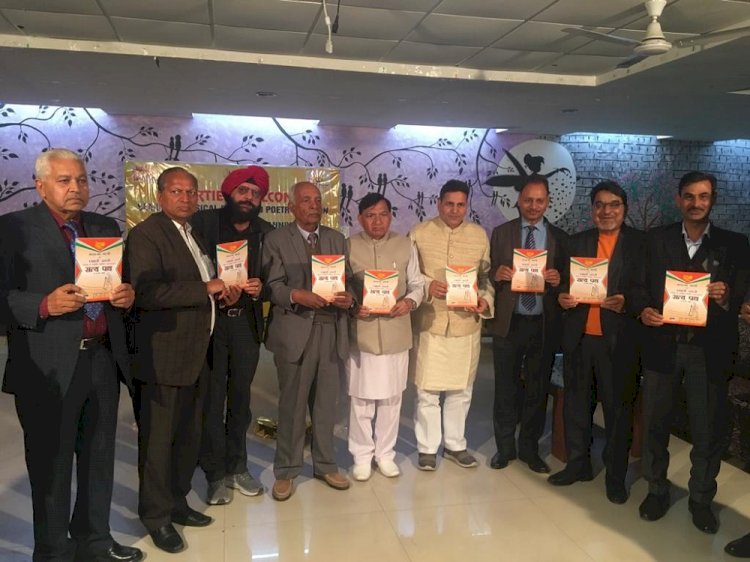 Panchkula: A Seminar on the life, teaching and services of Mahatma Gandhi was organized by Ehsaas Adabi Society at Brilliance World School, Panchkula.
Gian Chand Gupta, Speaker, Haryana Vidhan Sabha, chief guest of the function could not join due to his urgent official engagement but he sent his best wishes for the success of seminar. He also emphasised everyone to follow the ideas and teachings of Gandhi for peace and development of the Nation.   
Chairman of Brilliance World School Sham Sunder Bansal and B D Kaliya Humdum, President, Ehsaas Adabi Society welcomed the Guests.
KK Sharda in his address highlighted the role of Mahatma Gandhi in promotion of harmony, brotherhood Ahimsa and care for the deprived, helpless and neglected people. He also emphasised the promotion of khadi and village industries. BD Kalia Hamdam who presided over the function described Mahatma Gandhi as the world leader and guide for the upliftment of the poor and needy people. Mahatma Gandhi has his followers throughout in the world and is worshiped. Let us follow his principles, philosophy and deeds to create a world order of peace brotherhood conductive to healthy, purposeful, noble life full of love and regards for each other inspite of difference of opinion. Souvenir "Satya Path" in relation to Gandhi's philosophy was released on this occasion.       
Many speakers including JC Joshi, MM Juneja, DR Tyagi, Dr WC Goyal, Dr Jagmohan Chopra, JD Dhingra, Ishwar Jindal expressed their views on his life, teaching, ideas and contribution of Mahatma Gandhi in the freedom struggle, Mahatma Gandhi certainly was a rare figure of the world. 
The musician, Devki Anand, Meet Khanna, Meeta Khanna and Kanchan presented composition / Gazal. The poets Amar Ambalvi, Narelvi, Pravez recited the best poems/ gazals to mark the occasion. 
Overall the function was marvellous and unique and every participant was honoured with a memento.