Seminar on health awareness and legal rights for women
Event aimed at making women aware of their health and their legal rights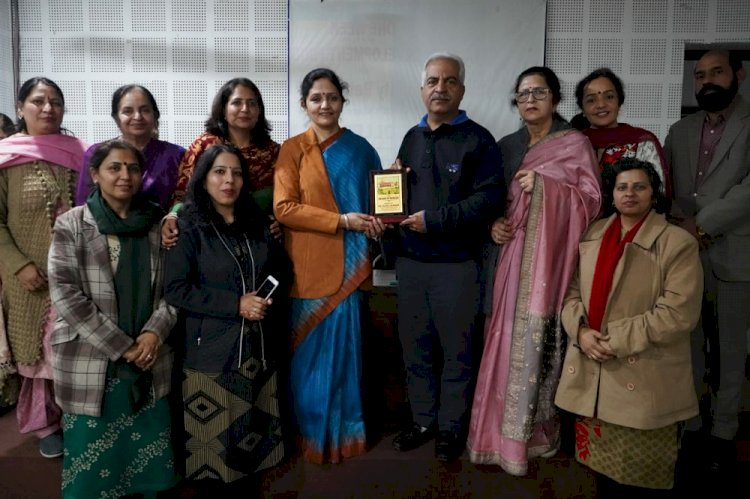 Jalandhar: On Women's Day, DAV College, Jalandhar organized a one-day seminar on "Health Awareness and Legal Rights for Women" aimed at making women aware of their health and their legal rights. 
The main speaker of this seminar were Dr. Manjula Singal and Ashu Randev, who were given floral welcome by the college's Principal Dr. SK Arora and the seminar's Coordinator Prof. Anu Gupta. 
Talking on the legal rights of women, Ashu Randev said, "Women are emerging as an economic and political power pool internationally. The rights and opportunities that our Constitution has given us are also gaining prominence. Today women are also working hard and are serious about their careers. In such a situation, women should be aware of the rights given by Indian law. Women have the right to equality before the law. Women should be aware of their honor, security, self-defense and rights. So that the concept of women empowerment can come true. But it is a pity that women are not aware of their rights, awareness and legal information is necessary. If a woman is not aware, then she can become a victim of harassment. It is important for every woman to know her rights, the law. Only with awareness can women avoid being victims of violence.
Further, Ashu Randev, stating the legal right, said that a woman cannot be arrested after the sun sets and before the sun rises. In a particular case, this is possible only on the orders of a first class magistrate. In any case, if the accused is a woman, then any medical examination process done on him should be done by a woman or in the presence of another woman. Finally, Ashu also informed about the right against domestic violence on women
Dr. Manjula Singal while talking on women's health said that any talk of women empowerment is incomplete until women become health conscious. He said that this is because even today the death rate of women is the highest in the whole country. A woman needs good food to do her daily work, prevent diseases and stay safe and healthy. But still, in the whole world, women face more malnutrition than any other health problem. This can cause tiredness, weakness, disability and bad health. Women must be health conscious and in their daily life, 5 important vitamins and minerals, including iron, folic acid, calcium. Iodine and vitamin 'A' should be added by women. Women should also adopt balanced diet, exercise and yoga to stay healthy.
Thanking Chief Speakers at the seminar, Principal Dr. SK Arora said that women are registering their presence in every field today. The impression of his steps is present not only from the ground to the sky but also in space. As their stature has increased, they will now be able to make themselves even more secure and forward by knowing about their rights and the laws related to it and staying completely healthy. Today's seminar was very important and full of information mainly for women
Prof. Anu Gupta, Prof Seema, Prof Sharanjeet, Prof Kavaljeet, Prof Pooja, Prof Ekjot and Prof Seema were also present in this seminar./(February 20)