Seminar on gadar movement at RGC
Motive was to discuss role of gadar movement in freedom struggle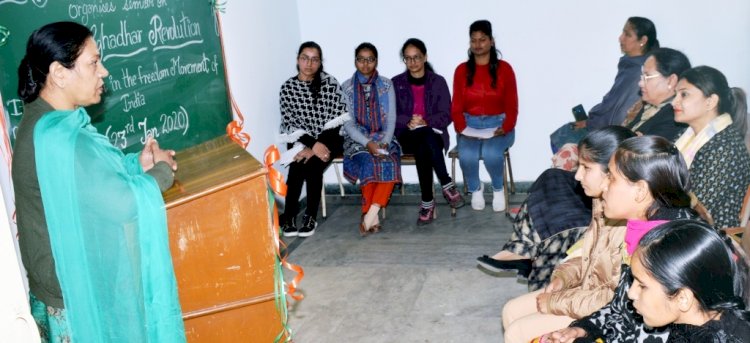 Ludhiana: To celebrate the 150th birth anniversary Mahatma Gandhi and 100th anniversary of Jallianwala Bagh Massacre a one day seminar was organised by the Department of History and NSS Department in Ramgarhia Girls College. 
The motive of the seminar was to discuss the role of Gadar Movement in the freedom struggle of India. 
The students were made aware of the various facts and the personalities involved in the Gadar Movement by Ranjodh Singh, President, Ramgarhia Educational Council and  Gurcharan Singh Lotey, Secretary , Ramgarhia Educational Council. 
Ranjodh Singh said in his address that by taking inspiration from the freedom fighters who sacrificed their life for the welfare of our country still inspires us to put every effort to restlessly work for the betterment of India. 
The students of B. A.III Sudha Mishra, Jasnoor Kaur, Simranjit Kaur and Ravneet Kaur presented their views on Gadar Movement. 
Principal Dr. Inderjit Kaur asserted that among others Kartar Singh Sarabha was a great name who contributed greatly in the movement. 
In the end, Dr. Radhika Sharma, Head, History Department answered to the questions of the students.