Seminar on "Changes in labour laws during Covid-19 - Challenge before the trade unions" 
AITUC Ludhiana Unit organised seminar at Shaheed Karnail Singh Ishru Bhavan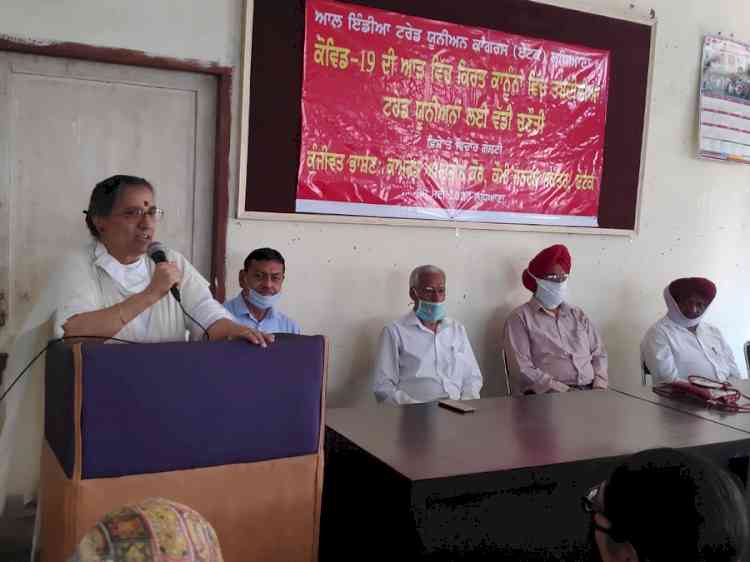 Ludhiana: Bringing about changes in the labour laws to the benefit of corporate sector and in detrimental to the interests of the workers during Covid 19  pandemic by the government of India shows total insensitivity not only to the rights of the workers but to the whole issue of tackling the endemic which is causing impact on life of the people as a whole and economic development of the nation, Comrade Amarjeet Kaur General Secretary All India Trade Union Congress( AITUC) said. That this is a big challenge before the working class and the country as a whole she asserted.  She was addressing as key note speaker at the seminar on "Changes in labour laws during COVID 19 - Challenge before the trade unions" organised by AITUC Ludhiana Unit at Shaheed Karnail Singh Ishru Bhavan today.
She emphasized that the working class in India while fighting for its rights fought along with other sections of the society during the freedom struggle of the country. Lala Lajpat Rai, Netaji Subhash Chander Bose,  Jawaharlal Nehru and V V Giri had been the presidents of the conferences of the first National Trade Union of the workers namely AITUC. Several other freedom fighters always associated to extend their support to this pioneer organization of the working class. She told that it is not only the changes in the existing labour laws but several of the labour laws are being suspended in the states of Uttar Pradesh, Gujarat and Madhya Pradesh for more than three years. This suspension includes the basic laws such as The Trade Union Act 1926 which permits unionisation of work force as well as the law of collective bargaining which permits the unions to negotiate with the government or with the managements for their rights. The law on Contract Labour is also suspended along with Industrial Dispute Act, this means that there will be no dispute resolution mechanism and you cannot go to courts. Factory Act suspension will do away with 8 hours working and safety measures at the work place. Madhya Pradesh Government is increasing working hours at shops and establishment from six to twelve in the night i.e 18 hours working. The women and children have been the worst sufferers during this period. Substantial number of women would loose livelihood whereas there are dangers of child labour to grow.
To stop these changes there is big challenge for the trade unions to wage united struggle. Other who participated in the deliberations include Comrades Ramesh Rattan-President AITUC Ludhiana, Vijay Kumar- General Secretary AITUC Ludhiana and M S Bhatia – Deputy General Secretary AITUC Ludhiana, Gulzar Goria, Charan Sarabha and Chamkaur Singh.